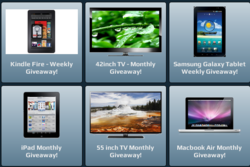 "The prize drawings have added an element of excitement to the initial launch of Red Rock Insights," said Dan Stevens.
Los Angeles, CA (PRWEB) April 04, 2013
After weeks of anticipation, RedRocksInsights.com announced its first monthly prize winners yesterday. With big prizes on the line, thousands of members of the stock market tutorial website could barely stand the suspense to learn who had won each of the multiple drawings.
The winners are as follows: Brady of Abilene, Kansas won a Macbook Air laptop;
Scott of Warren, Michigan won a 55" inch television; Laura of Albuquerque, New Mexico won a Microsoft Surface tablet; Linda of Victorville, California won an iPad; and Sherry of Salem, Arkansas won a 42" television.
"Thank you so much, Red Rock Insights," said Sherry, who won a large screen TV. "At first I thought it was an April Fools prank." Fortunately for her and the other prizewinners, these rewards are no joke and they will have them in their homes by next week.
In addition to the monthly drawings, RedRockInsights.com also awarded its weekly prizes. Three more of the website's members won an iPad, a Kindle Fire, and a Samsung Galaxy tablet. Members are currently entering for next week's drawings for the same prizes, as well as April's monthly prizes, too.
Members of Red Rock Insights enter drawings by redeeming points they have earned. In order to obtain points, members can read news current financial topics, answer quizzes, comment on the site, and share content that convinces their friends to join.
"The prize drawings have added an element of excitement to the initial launch of Red Rock Insights," said Dan Stevens, a representative for the website. "We're glad that we've found a way to make learning about the stock market and personal finance a fun activity and that our members are responding to our site."
Not everyone is visiting the site for the prizes, though. Some like RedRockInsights.com for its simple lessons on the economy. Users who are curious about bonds, the stock market, credit unions, interest rates, and personal financial tips can educate themselves on these topics in the Learning Center.
A soon-to-be unveiled stock market trading game will elevate the site to another level in the upcoming weeks. Members will compete with one million imaginary dollars and be able to buy and sell stocks at their current market values. Not only will players have the opportunity to try their hand at investing on the market without risking any money, but they will always be in the running for cash and prizes. Each month, Red Rock Insights will award its members with the top-earning fantasy portfolios expensive prizes for their smart investment choices.