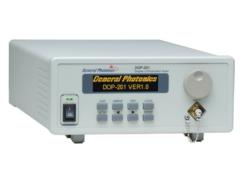 Fast, wavelength independent, and yields accurate measurements even at low DOP levels.
Chino, CA (PRWEB) April 04, 2013
General Photonics, a market leader in optical polarization measurement, announces a new DOP (Degree of Polarization) Meter for laboratory or system use. According to General Photonics president Dr. Steve Yao, "Even though our older DOP-101 faced little competition, there were areas we could improve, so we upgraded the DOP-101 from top to bottom."
The DOP-201 uses a patented maximum and minimum search technique that is fast, wavelength independent, and yields accurate measurements even at low DOP levels, something that other techniques cannot offer. The new instrument is faster and more accurate than the older DOP-101. New features specifically designed for automated test equipment (ATE) systems include triggered measurement, an analog monitor voltage, more robust communication interfaces, and an SCPI-compliant command set.
Technical Specifications
The standard DOP-201 operates over a wavelength range of 1260 to 1650 nm. Versions for other ranges, such as 980-1300nm, may also be available. Its measurement speed is 30 ms, and its measurement accuracy can be as good as ±0.2%, even at very low DOP levels. The DOP-201 can be controlled either from the front panel or remotely via USB, Ethernet, RS-232 or GPIB interfaces. In addition, it has a user-configurable analog monitor voltage output.
Like all of the new 200-series instruments, it has an OLED graphic display, ergonomic keypad, and universal power supply.
Pricing and Availability
The DOP-201 will be available for delivery in 10 to 12 weeks. Pricing begins under $8,000.
About General Photonics
Founded in 1995, General Photonics is an award-winning manufacturer of advanced optical polarization modules and instruments. The company holds numerous patents on photonic designs, and its staff has authored a number of published articles on polarization and delay control. Customers include research organizations, manufacturers of communication systems, aerospace companies and medical system manufacturers.
The company is privately held, with headquarters and manufacturing facilities in Southern California. A design, engineering and technical support center is located in Beijing, China. Sales worldwide are conducted through a network of distributors and representatives. More information can be found at the company's website, http://www.generalphotonics.com.
References to corporate, product or other names may be trademarks or registered trademarks of their respective owners.