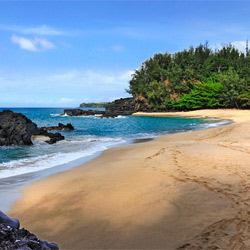 We are pleased to partner with the Kauai Lifeguard Association to inform guests on precautions needed for a safe Kauai vacation. --JP Parrish
Poipu Beach, Kauai, Hawaii (PRWEB) April 04, 2013
A free interactive on-line Kauai beach map with best tips for ocean safety is now available on The Parrish Collection Kauai vacation rental website. This information can also be viewed on mobile devices with the new Kauai video on ocean safety.
By hovering over the map or clicking Kauai beach locations on a smartphone, visitors can see details on each beach that includes the safest time of year for swimming, where to find lifeguard stations and restroom facilities, best beaches for Kauai snorkeling and if hiking is required.
There are also links to expanded information on each Kauai beach and picturesque photos of what to see. The Parrish Kauai Beach Explorer is unique for its safety information and including smaller Kauai beaches like Hideaways at Princeville Resort and Baby Beach at Poipu Resort.
"Recent ocean related deaths have brought the entire Kauai visitor industry together to educate residents and visitors on staying safe at Kauai beaches," said company owner JP Parrish. "We are pleased to partner with the Kauai Lifeguard Association to inform everyone and our guests about what precautions are needed for a safe Kauai vacation."
The Parrish Kauai Beach Explorer has become a resource in this effort to promote ocean safety by covering topics from using rescue tube stations to handling a rip current. To use the Parrish Kauai Beach Explorer, visit Kauai Beaches on their website or call 800-325-5701 for more information.
About The Parrish Collection Kauai
Established in 1984, The Parrish Collection Kauai represents the island's finest selection and variety of luxury Kauai vacation rentals including the most oceanfront properties at Poipu Beach. Rated Excellent by TripAdvisor and as a "2012 Top Rental Manager" by FlipKey, their distinguished collection of 200 homes and condominiums on the North Shore Kauai and South Shore Kauai is complemented with a dedicated long-term staff and a full service Guest Concierge. Four offices are located in Koloa, Princeville and at Poipu Beach to assist guests and owners. Their latest Kauai deals, on-line direct booking and property information is available on the Parrish Kauai website and by calling 800-325-5701. Also featured is their new Kauai webcam with live views of the Poipu Beach coastline.