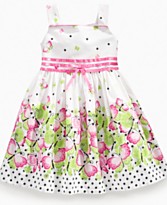 (PRWEB) April 03, 2013
Importing wholesale brand name dresses is discussed in a new video released on YouTube by Closeout Explosion, a wholesale dress showroom that supplies designer clothing, shoes, and handbags to a range of resellers, such as importers, wholesalers, retailers, flea market vendors, and eBay sellers. Donny Lowy, the owner of the New York dress distributor, offers a wide range of popular closeout and liquidation fashion products through his overstock website CloseoutExplosion.com. Based on his strong sales of fashionable ladies wear, Donny has produced a video that teaches resellers tips on how to make the right wholesale buying choices when they cannot physically visit a warehouse. The tips can be used by international buyers, such as a Nigerian boutique looking to import merchandise from a New York closeout dealer, and by US based retailers, such as a Miami clothing shop whose buyer cannot travel to do her shopping in the Manhattan Fashion District.
"As an exporter that specializes in brand name inventory, and desires to have a long term relationship with my customers, I need to be able to efficiently guide my clients through the exciting and crucial process of selecting the products that can be a correct fit for their shoppers. This process has enabled me to study the market and determine the type of questions that retailers should be asking when initiating a relationship with a supplier. There also criteria that should be met by a wholesaler that seeks to demonstrate his ability to meet the needs of domestic and international fashion businesses. The intended purpose in creating my YouTube video is to illustrate articulately the information that apparel sellers will need, and to offer concise guidelines that retailers might need when seeking to import apparel," said Donny Lowy, who has worked with clients that have imported his merchandise pallets to many countries including Nigeria, Kenya, Trinidad, and Israel.
Like any business, the dress wear market has its own parameters which when followed carefully can help a boutique prosper. The video for example explains how to determine the type of dresses that one's customers are interested in, and how to analyze the potential of a locally unknown brand. For example, a retailer in Kenya might opt for stocking her shop with office wear by Tahari and Jones New York, while passing over similarly elegant clothing by a brand that is unknown in her local market, such as Jessica McClintock. The video explains why a retailer should consider taking a chance on an unknown brand, and how to analyze the sales potential of that particular designer before actually placing an order for it.
CloseoutExplosion.com has a liquidation warehouse in Brooklyn which is open six days a week, and has no minimum requirements for resellers. Although the actual inventory in stock changes often, the liquidation business focuses on merchandise by designers such as Coach, Calvin Klein, Nine West, Steve Madden, Jessica Simpson, Guess, Tommy Hilfiger, Polo Ralph Lauren, BCBG, and other leading internationally known names.