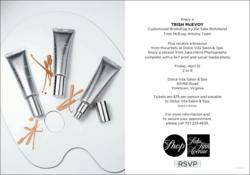 Yorktown, Va. (PRWEB) April 04, 2013
Dolce Vita Salon & Spa and Sara Harris Photography are pleased to present the Power of Makeup – a Saks Fifth Avenue and Trish McEvoy makeup event on Friday, April 12 from 2 to 8 p.m.
The event is $75.
Included in the cost is a personalized workshop with Trish McEvoy's artistry team, a blow out with the stylists of Dolce Vita and an on-site mini Sara Harris Photography portrait session, which includes a complimentary Facebook profile images and 5 x 7 gift photo print.
Trish McEvoy is pleased to offer free shipping and a token of appreciation with a $50 purchase.
The Trish McEvoy collection includes skincare, cosmetics, makeup brushes, fragrance, and organizational accessories. They can be found in more than 200 luxury department stores and boutiques throughout the United States, the UK, and Ireland. Trish McEvoy is currently not available for purchase in Hampton Roads.
"It's an honor to host Saks and Trish McEvoy here in Yorktown," said Billie Jo Keller, founder and owner of Dolce Vita Salon & Spa. "Not only are we thrilled to feature this luxury brand, but we are excited to bring women here and watch them leave feeling as beautiful on the inside as we see them on the outside."
"That's the beauty of us working so closely together," Sara Harris of Sara Harris Photography added. "You will leave here confident and with images to show you how the rest of the world sees you."
Appointments are limited. The personalized makeup sessions will take approximately 45 minutes per person.
Reserve your space by calling Dolce Vita Salon & Spa at 757.223.4633.
Dolce Vita Salon & Spa is located at 101 Mill Road in Yorktown, Va. Sara Harris Photography's studio is located next door.
Interested in purchasing Trish McEvoy products but not attending the event? Stop by Dolce Vita Salon & Spa anytime during the event and work directly with a Saks Fifth Avenue Richmond representative.