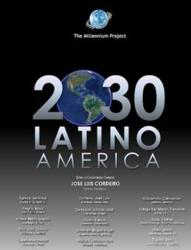 Organized crime is the only serious threat to a bright future for Latin America.
(PRWEB) April 04, 2013
A Discussion of How Latin America Will Change Over the Next Two Decades will be hosted by Peter Hakim, president emeritus of the Inter-American Dialogue, who will be moderating a panel with José Cordeiro, Director of the Venezuela Node of The Millennium Project and leading author of the report, Latinoamerica 2030 , and Jerome Glenn, Executive Director of The Millennium Project. Sergio Bitar, Chilean futurist and Director of the Dialogue's Global Future's Project, will also participate in the panel and make additional comments.
This important activity will be held at the Inter-American Dialogue in Washington, DC, from 8:30 to 10:00 am on Friday, April 5, 2013. There will be a quick presentation followed by a discussion of the new report, Latinoamerica 2030, assembled by The Millennium Project, a worldwide network of analysts studying long-term global trends. This special report reviews a series of four scenarios for the future of Latin America. It provides a 20-year horizon of the issues and policy options for the region's political, economic, and social development. The report contains prefaces by Alicia Bárcena (ECLAC in Santiago, Chile), José Miguel Insulza (OAS in Washington, DC), Enrique V. Iglesias (SEGIB in Madrid, Spain), besides many comments by leading Latin American personalities, including four presidents and ex-presidents: Enrique Peña Nieto (Mexico), Fernando Henrique Cardoso (Brazil), Eduardo Frei Ruiz-Tagle (Chile) and Leonel Fernández (Dominican Republic).
The report considers four possible scenarios for the year 2030, based on two major dimensions decided by the international panel of experts: a techno-economic axis and a socio-political axis. By the best scenario, called "Mañana is Today: Latin American Success", the region is booming under economic integration and is planning its first manned space missions. By the worst scenario, called "The Region in Flames: This report is Secret", organized crime and mafias control much of the region. In between those scenarios, many issues are considered. The report also contains a series of appendices, including long series of statistics for major development indicators, beginning with historical data from 1980 and continuing with forecasts to 2030. "Organized crime is the only serious threat to a bright future for Latin America," notes Jerome C. Glenn, CEO of The Millennium Project.
The discussion will be led by the principal author of Latinoamerica 2030, José Cordeiro, and by Jerome C. Glenn, CEO of The Millennium Project. Former Chilean senator and minister Sergio Bitar, who directs the Dialogue's project on global futures, will offer comments on the document.