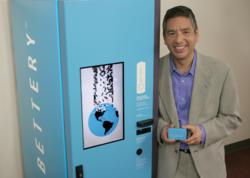 BETTERY's innovative approach to reusable batteries is consistent with our philosophy, and we are excited to offer this new model to our customers
PORTLAND, Oregon (PRWEB) April 04, 2013
BETTERY Inc., the company reinventing the household battery market, today announced the installation of its first rechargeable battery Swap Stations (kiosks) that are changing the way consumers purchase and use household batteries. Through a simple touch-screen display, consumers can complete battery exchanges in a few moments, lowering overall battery costs and reducing their environmental footprint.
"One of our core values is caring about our communities and our environment," said Dena Hastings, Regional Green Mission Specialist, Whole Foods Market. "BETTERY's innovative approach to reusable batteries is consistent with our philosophy, and we are excited to offer this new model to our customers and believe they will appreciate the environmental benefits, in addition to the cost savings and convenience."
The first BETTERY Swap Stations are initially being installed in five Whole Foods Market stores, three in the Portland area and two in the Seattle area. Through the use of "smart" rechargeable battery Swap Stations, BETTERY aims to stem the tide of the 2.5 billion batteries that are thrown away in the U.S. every year and to create a less costly, more convenient solution for consumers. The Swap Stations allow for easy purchase and exchange of reusable AA and AAA batteries and serve as a drop-off site for recycling traditional single-use alkaline batteries.
In cooperation with Whole Foods Market, BETTERY is conducting regular battery recycling events to provide customers with an environmentally responsible way to recycle their drained single-use batteries, while upgrading to the BETTERY reusable solution. The first event will be held simultaneously at the five participating Whole Foods Market stores from 9 a.m. to 3 p.m., Saturday, April 13. For more information about these events, visit http://www.BETTERYinc.com.
"Our extensive research shows that consumers will embrace a convenient, affordable option for reusable batteries," said BETTERY founder and CEO, Charlie Kawasaki. "We are placing our Swap Stations at locations where people are already making regular shopping visits, so they don't have to go out of their way to start saving money and helping the environment."
Using BETTERY is designed to be simple:

Consumers purchase a set of four AA or AAA batteries at any BETTERY Swap Station. Customers also have the option of registering with BETTERY at the time of initial purchase, allowing them to track usage patterns or to take advantage of rewards programs via social media or the BETTERY website.
The batteries can be used just like alkaline batteries with comparable performance. They offer superior performance for high-power applications.
Drained batteries can be returned to any BETTERY Swap Station for freshly tested and charged batteries—without the hassle of recharging at home.
BETTERY's state-of-the-art AA and AAA rechargeable batteries come in reusable packages of four at an initial purchase price of $10 and a swap price of $2.50. With each swap, consumers save money compared to single-use batteries.
The environmental impact of single-use batteries extends well beyond landfills. It takes considerable energy and raw materials to manufacture, package and transport batteries to consumer locations. In contrast, the advanced batteries used in the Swap Station can be recharged up to 500 times.
"We think BETTERY provides a convenient and cost-saving way for battery users to reduce the impact of batteries on our region's landfills," said Pat McLaughlin, King County Washington Solid Waste Division Director. "Their model supports our mission to reduce waste. We're excited to see them succeed."
The BETTERY Swap Stations are now available at the following Northwest locations:
Seattle-area:
Whole Foods Market, Roosevelt Square, 1026 Northeast 64th St., Seattle
Whole Foods Market, Lynnwood, 2800 196th St. Southwest, Lynnwood, Wash.
Portland-area:
Whole Foods Market, Pearl District, 1210 Northwest Couch St., Portland, Ore.
Whole Foods Market, Hollywood, 4301 Northeast Sandy Blvd., Portland, Ore.
Whole Foods Market, Mill Plain, 815 Southeast 160th Ave., Vancouver, Wash.
BETTERY is in discussions with many major retailers for placement of Swap Stations in multiple U.S. cities. The company expects to announce additional deployments on an ongoing basis.
About BETTERY
BETTERY Inc. is a Portland, Ore.-based company that created a better way for consumers to use batteries. The company's innovative retail-based Swap Stations combine the convenience of single-use batteries with the value of rechargeables. Founded in 2011 with the mission the reduce waste by utilizing new generation NIMH batteries, BETTERY belongs to the movement of companies with sustainability at its core. With a veteran team of executives and advisors from major battery, kiosk and high tech companies, BETTERY is poised to reinvent the portable power industry.
Visit http://www.BETTERYinc.com and follow us on Twitter at @BETTERYinc and Facebook at http://www.facebook.com/BETTERYinc.