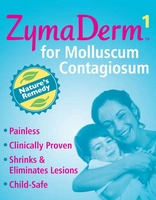 ZymaDerm™ is doctor recommended
Boise, Idaho (PRWEB) April 05, 2013
Pharmacy giant CVS has selected ZymaDerm, the most widely used painless treatment for molluscum, for sale at select stores to be included in it's new natural products section. ZymaDerm will be rolled out into CVS stores over the coming months.
"We have shipped our first purchase orders to CVS and are delighted that CVS now stocks ZymaDerm", says Dr. Briant Burke, MD,MS creator of this natural treatment and medical director of Naturopathix, Inc. the company that markets ZymaDerm. "If you don't see ZymaDerm on the shelf, just ask the pharmacist to order for you. This now makes it easier than ever for parents to obtain our simple and effective all natural dab on preparation, and avoid expensive, painful and most always ineffective treatments," continued Dr. Burke.
While this condition occurs primarily in young children, it is becoming epidemic amongst adults as well. ZymaDerm is effective for molluscum in adults as well as children, and may be used safely on all body areas including the face and private areas.
ZymaDerm is doctor recommended for the treatment of molluscum in children, a statement based on an independent follow up survey conducted by the School of Business at Boise State University involving 356 physicians nationwide over a 2 year period. Results showed that 86% of physicians rated ZymaDerm as highly effective or effective, and an equal number now recommended ZymaDerm as their preferred treatment option (data on file).
Many leading dermatology clinics and pediatricians are now replacing invasive and often painful treatments with this gentle, effective, natural treatment for their patients infected with MCV, the virus responsible for the unsightly and highly contagious skin condition.
A patented blend of powerful all natural plant-based compounds, ZymaDerm™ transforms treatment from expensive and often painful procedures such as freezing, burning, or surgical removal of the lesions to simply dabbing on a pleasant aromatic blend twice a day, usually for less than a month, until the lesions completely vanish.
MC is a highly contagious skin infection caused by a virus that is a member of the poxvirus family. Symptoms include raised, unsightly, warty lesions on the skin. It is a common infection throughout the world and accounts for approximately 1% of all visits to dermatologists in the US.
Children most frequently contract MC. They catch it when they come into contact with the virus, usually on the skin of another infected child or on a wet surface infected with the virus. The lesions can spread rapidly and are usually seen on the face, neck, armpit, behind the knees, and on the abdomen, but can occur almost anywhere on the body.
Rather than have patients risk painful and expensive treatments, and to encourage the use of the safe and effective topical approach, ZymaDerm offers a no-risk six-month money back guaranty.
ABOUT ZYMADERM™
Naturopathix,Inc. was founded in 2002 with the mission to develop novel plant based therapeutic treatments for the relief of common medical conditions. The company is led by Dr. Briant Burke, a practicing physician and distinguished medical research scientist with over 20 years of clinical experience treating patients and publishing clinical trials. ZymaDerm is FDA approved as a homeopathic formula. Its ingredients are officially included in the Homeopathic Pharmacopeia of the United States as useful agents. The potency and level of purity of the ingredients in ZymaDerm meet the most stringent standards of excellence.