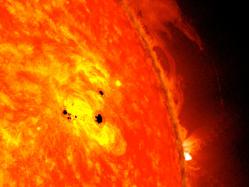 Scientific evidence, not fear-mongering propaganda, should be everyone's 'beacon of truth' in this battle for minds and multi-billion dollars in taxpayer's dollars
Calgary, Alberta, Canada (PRWEB) April 04, 2013
When visitors to Al Gore's Climate Reality Project are invited to "Join Reality", it's an invitation to climate change science assumptions say Friends of Science.
"We've been reviewing climate science for over a decade," says Ken Gregory, director and author of several papers on the subject. "Scientific evidence, not fear-mongering, should be everyone's 'beacon of truth' on climate change where and multi-billion dollars in taxpayer's dollars are at stake."
Friends of Science representatives spent an evening recently with two of Canada's "Climate Reality" volunteers who were said to have been trained at an Al Gore training school. However, things became awkward when Friends of Science asked for evidence to support the claims in the presentation.
"Showing terrifying pictures of floods and droughts and hurricanes without showing any scientific evidence to demonstrate a factual link between these and the notion of anthropogenic global warming is just fear-mongering," says Gregory.
Friends of Science offer a detailed review of the proceedings on their web-site supported with scientific graphs and citations showing there is no increase in storms or severe weather events.
According to the research review by the Friends of Science, the sun is the main driver of climate change. As noted by NOAA, stratospheric water vapor is a wild card in relation to the effect of carbon dioxide on warming. Declining upper atmosphere water vapor offsets most of the presumed warming effect of CO2 emissions and allows heat to escape to space.
Likewise, according to the most recent revelations, global warming stopped 16 years ago, despite a rise in carbon dioxide (CO2).
"That surprised the Climate Reality people. They were convinced the world was much hotter. They hadn't heard of UK Met Hadley weather center report showing global warming stopped 16 years ago," says Gregory.
Friends of Science also dispute the often repeated statement that 'the science is settled' or that there is 'consensus'.
"We always hear about a 97% consensus, but when you read this study, you find out they chose only 76 people from some 10,000 scientists," says Gregory. "It intentionally misleads the public. Thousands of scientists, particularly earth scientists and astrophysicists can present substantial peer-reviewed data that refutes the AGW theory."
A review of The Climate Reality Project website reveals that this unsupported climate fright material is entering schools across North America.
"Sadly, the true scientific principles that people like Galileo and others fought for with their lives are being shunted aside," says Len Maier, president of Friends of Science and a retired engineer.
Friends of Science offers open membership to the general public around the world, or one can join the conversation on facebook.
About Friends of Science
Friends of Science have spent a decade reviewing a broad spectrum of literature on climate change and have concluded the sun is the main driver of climate change, not carbon dioxide (CO2). The core group of the Friends of Science is made up of retired earth and atmospheric scientists.
Contact:
Friends of Science
P.O.Box 23167, Connaught P.O.
Calgary, Alberta
Canada T2S 3B1
Toll-free Telephone: 1-888-789-9597
friendsofscience.org
E-mail: contact(at)friendsofscience(dot)org