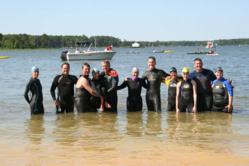 In the eight years we have held the event, we have raised over $140,000 for children's charities.
Gloucester, VA (PRWEB) April 04, 2013
The 2013 Peace Frogs Bank-to-Bank Swim will help children from families victim to domestic violence and those born with special needs but not enough support to get the services they require.
Catesby Jones, founder and president of Peace Frogs, a Gloucester, Va.-based apparel company that hosts the three-mile, open water charity swim, announced this month that the annual event will benefit the Laurel Shelter and Rural Infant Services Program.
The Laurel Shelter opened in 1997 in Gloucester, Va. to provide shelter for domestic violence victims. The shelter added a Sexual Assault Crisis Center in 1999.
"The Laurel Shelter is open to women and their children, and our mission is to support children's charities," Jones said.
The Rural Infant Services Program provides services for infants and toddlers with special needs. Most of the services take place in the family's home and can include physical, occupational and speech therapies, family support and educational materials and equipment.
"In the eight years we have held the event, we have raised over $140,000 for children's charities," Jones said.
Without the participation of philanthropic minded swimmers, like Dr. Peter Wilcox of the Wilcox Eye Center, who's participated each year since the first event, Jones said, "we could have never done this."
The 2013 Bank-to-Bank swim is set for May 26 at 1 p.m., with registration still open to individuals and teams.
The Bank-to-Bank swim crosses the York River, starting at Felgates Creek along Virginia's Colonial Parkway near Williamsburg, and ending at a private residence in Gloucester County, tucked between Carter and Cedar Busk Creek.
To participate, a swimmer must raise at least $1,000 in donations for the Peace Frogs Bank-to-Bank Fund.
The fund is administered by the Gloucester Community Foundation, an affiliate of The Community Foundation Serving Richmond and Central Virginia. The fund is designated to support children of the Tidewater, Va. region.
Interested swimmers can register by contacting Jones via email at catesby(at)mindspring(dot)com.
"If you can't swim, or you know someone who may be able to swim, please put them in touch with me," Jones said.
Teams are permitted to register to share the swimming distance as well as fundraising requirements.
Donations are welcome anytime at http://www.tcfrichmond.org/peacefrogs.
About Peace Frogs:
Established more than 25 years ago by Catesby Jones, the Virginia-based Peace Frogs apparel company promotes positively peaceful living.
The apparel and gift products are featured online, in more than 800 specialty stores around the world and via an annual catalog. With 16 free standing stores and 20 licensees, the Peace Frogs brand grows in popularity each year.
For more information about Peace Frogs, contact Catesby Jones at catesby(at)mindspring(dot)com.