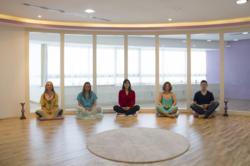 Dubai, Abu Dhabi, Sharjah, San Francisco, Pune (PRWEB) April 11, 2013
Dubai-based well being center, Illuminations, is going global. The popular holistic facility plans to open a new center in Pune, India, this May.
Illuminations all around goals were born out of a growing desire to help people in need find support in order to live happier and more peaceful life. Illuminations understand the importance of supporting this personal journey and offers a full range of holistic services for clients including yoga, meditation, hypnotherapy, astrology, feng shui, and more.
Illuminations flagship center is located in Jumeirah Lake Towers. The center was founded by Soniyaa Kiran Punjabi who aims to inspire and enable people to break free from fear; stress and limitations by helping them live the life they have always known was possible, and reaching their full potential. They offer a diverse and integrated series of daily sessions, workshops and training courses to support individuals and companies.
This mission has remained unchanged since Illuminations first opened it's doors and the staff aims to create a nurturing environment where individuals can gain access to support and empowering tools and techniques.
Through their "live light" movement the Illuminations team aims to motivate individuals to expand their minds, open their hearts, and gain the knowledge, wisdom, and clarity to align their mind body energy, so they are empowered to convert their desires to experience true greatness in their lives.