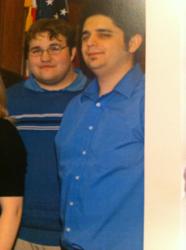 Monroe, WI (PRWEB) April 04, 2013
Troy Tischler and Scott Tischler announce a proven workout, from their upcoming book, to naturally put on twenty pounds of muscle in a month. Scott Tischler and Troy Tischler want to share this exercise to help those who have a problem putting on muscle mass.
The first set is done with eighty percent of maximum weight for four repetitions. For the second, third, and fourth sets the weight is cut in half. Ten to twelve repetitions is required for these sets. The fifth set the weight is then returned to a heavy weight and repetitions return to four. This must be done for a total of five exercises per muscle group. If two muscle groups must be done in one day cut down the exercises to two per muscle group.
It is important to always listen to the body. If the muscle group that is being exercised becomes too fatigued or extremely sore during the workout then the weight should be immediately lessened. If the fatigue persists after the weight has been lessened then the workout should be discontinued until that muscle group is exercised again.
Troy Tischler and Scott Tischler's book will cover this exercise and others that will help promote natural muscle growth, and healthy weight loss. For best results proper diet should be followed.
Scott Tischler was naturally very skinny in high school and could not gain muscle mass no matter what exercise program he tried. Scott Tischler and Troy Tischler experimented with different work outs with little to no results. Finally the Tischler brothers designed a work out that will pack on the muscle mass virtually overnight. This program and others is discussed in their soon to be released book.