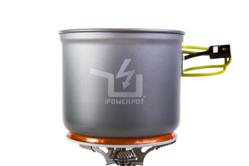 It will be exciting to see how many of the units EMS sells from this initial push
(PRWEB) April 09, 2013
Looking for a new way to charge up the GoPro this camping season? This year there are more options than ever. Solar, hand-cranked, and even heat-powered generators have become the go-to method for personal charging on-the-go. While nearly every backpacker has seen a solar panel, many were surprised to hear about the PowerPot from Eastern Mountain Sports. The retailer announced the addition to its lineup last week via email. The device was also added to a handful of EMS locations on the East Coast.
Caleb Light, VP of Sales for the PowerPot, said the company is waiting to hear about the initial response from the EMS customer base. "We are told that over 600,000 customers received an email listing the PowerPot as new gear, it will be exciting to see how many of the units EMS sells from this initial push," said Light.
The PowerPot is a thermoelectric generator, which quite literally means it converts heat into electricity. Unlike other forays into this new field, the PowerPot has no moving parts, making it especially durable and portable. Weighing in at just twelve ounces, the pot is slightly heavier than the lightest cooking sets, but can literally save on pounds of batteries.
After being introduced on Kickstarter's crowdfunding platform last April, the PowerPot went on to reach more than double it's funding goal of $50,000. After fulfilling the Kickstarter campaign, the PowerPot is making its debut online and in retail stores all over the US.