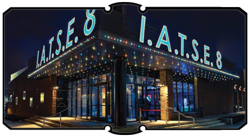 "This is by far one of the most unique places I've seen a Sweet 16 party held at"
Philadelphia, PA (PRWEB) April 09, 2013
The International Alliance of Theatrical Stage Employees, or I.A.T.S.E., is a labor union representing about 113,000 technicians, artisans and craftspersons in the entertainment industry, including live theatre, motion picture and television production, and trade shows. It was here at the I.A.T.S.E. Ballroom in Philadephia, that a Sweet 16 was held in at the end of March. The night had some added flair with a photo booth rental from Peekaboo Photo Booth.
"This is by far one of the most unique places I've seen a Sweet 16 party held at", states Andrew Birr, owner of Peekaboo Photo Booth. "Being a big film buff, I am envious of her big night."
According to their website, today the IATSE is the largest union representing workers in the entertainment industry. Their members work in all forms of live theater, motion picture and television production, trade shows and exhibitions, television broadcasting, and concerts as well as the equipment and construction shops that support all these areas of the entertainment industry. They represent virtually all the behind the scenes workers in crafts ranging from motion picture animator to theater usher.
About Peekaboo Photo Booth
With more than five years of experience, Peekaboo Photo Booth (http://www.peekaboophotobooth.com/orlando-photo-booth-rental/) has completed more than 1,000 successful events. The company offers classy, cabana-style booths that are easy to set up and simple to use. Based in Winter Park, Fla., Peekaboo Photo Booth is a privately owned firm that offers services nationwide. In addition to operating in the Orlando area, the company also has a presence in the following metropolitan areas: Phoenix, Miami, Los Angeles, San Francisco, San Diego, Houston, Dallas, Washington D.C., Philadelphia, Boston, Atlanta, Seattle, Chicago, and Detroit. Peekaboo Photo Booth has been in the Photo Booth Rental Business for over five years and celebrates a nationwide footprint servicing both private and corporate events.