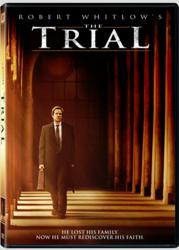 (PRWEB) April 04, 2013
This weekend Trinity Broadcasting Network, America's most popular faith and family network, offers viewers a pair of powerful feature length films that are sure to entertain and inspire viewers of all ages. One a riveting modern drama, and the other a Bible epic, both feature a cast of award-winning Hollywood veterans and passionate stories of healing and redemption.
On Saturday April 6, TBN brings the gripping courtroom thriller "The Trial," starring Matthew Modine as "Mac" McClain, a defense attorney who is emotionally devastated after his wife and two sons are killed in a car accident. Having lost his family and his faith in God, Mac reluctantly agrees to take on one last case: a young man facing the death penalty for murder. But nothing can prepare Mac for the startling twists and turns of the ensuing trial, as the determined lawyer fights for justice and seeks a path to his own redemption. The Parents Television Council awarded "The Trial" its coveted Seal of Approval, calling it a "powerful drama which shows the power of healing and hope." Airs April 6 at 9 p.m. (Pacific Time).
Over the past several years TBN has become the go-to network for the most popular and impacting Bible movies ever produced. On Sunday, April 7, TBN offers viewers the modern epic "Jesus," with an all-star cast including Debra Messing, Jacqueline Bisset, Gary Oldman, and Jeremy Sisto as Jesus. This 1999 classic combines the scriptural Gospel accounts with dramatic storytelling to recount the life and passion of the Son of God from His humble birth, through His miraculous and compassionate ministry, and culminating in His unequaled sacrifice and victory for all humanity. Airs Sunday April 6 at 7 p.m. (Pacific Time).
TBN Vice President Matthew Crouch, producer of the modern biblical classic One Night With the King, noted that the widespread popularity of the History Channel's recent miniseries The Bible, produced by Roma Downey and Mark Burnett, demonstrates the interest people from all walks of life have in connecting with the life-changing truths of Scripture.
"In a world with so many uncertainties, people are looking for lasting values that can guide them and their families," said Mr. Crouch. "For the past forty years here at TBN, we've been committed to offering a broad-range of programming that is both entertaining and life-impacting. Movies like 'The Trial' and 'Jesus' are just a small sampling of why viewers tune in to TBN and our global family of Christian networks."
To find out more about all the channels in the Trinity Broadcasting Family of Networks, visit http://www.tbn.org.