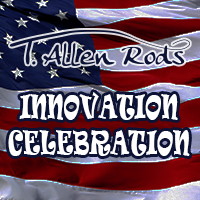 "Anglers love to talk about what helps them land the big one. Innovation Celebration, as a promotion and as an intro to our new product, has been our big one." - Chris Wayne, Communications Director, T. Allen Rods
Jacksonville, FL (PRWEB) April 06, 2013
T. Allen Rods is celebrating the greatest innovations in fishing with their Facebook fans, and unveiling what they believe to be the next great step in improving every angler's fishing experience.
The "Innovation Celebration" Facebook promotion highlights the twenty greatest innovations in the history of fishing. Throughout April, T. Allen Rods features brilliant fishing products: soft plastic lures, electric trolling motors, cast nets, spinning reels, and more. They're also giving away some of those innovations from partners like DOA, Calusa, and Shimano.
The giveaway has been a hit with fans, causing the company's fanbase to grow by 463% in three days. More importantly, the celebration has fueled anticipation regarding the unveiling of T. Allen Rod's new product on April 23rd, which may prove to be the biggest innovation of them all.
Headquartered in Jacksonville, FL, T. Allen Rods builds high-quality, high-value fishing rods for anglers of diverse skill and need sets; they are The Finest Rods On Earth. All T. Allen Rods are built in America to the same exacting specifications that Capt. Terry Allen Sturgeon has employed throughout his entire custom rod building career, and can be purchased online at http://www.tallenrods.com.