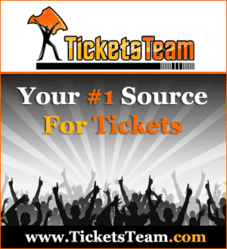 The Mumford & Sons Summer Stampede North American tour is predicted to sell out at lightning speed, so order your tickets now at TicketsTeam.com.
Portland, OR (PRWEB) April 06, 2013
Mumford and Sons tickets 2013 are available for the general public to purchase at TicketsTeam.com starting April 5. Purchasing your tickets on TicketsTeam.com is one of the fastest and easiest ways to ensure that you see Mumford & Sons in concert this summer.
Based on their immense commercial success and constant radio play, Mumford and Sons tour tickets are a hot commodity this summer. The band even took to its website to promote an early ticket registration process, where fans had to register for an invitation to buy concert tickets. Those who received an email invite will have the chance to buy tickets first.
The summer lineup for Mumford & Sons includes the wildly popular Sasquatch (Quincy, Wash.), Bonnaroo (Manchester, Tenn.), Telluride (Colo.), and Osheaga (Montreal, Quebec) concert festivals. Also on tap for summer are the already sold out Gentlemen of the Road Stopovers in August and September. The tour wraps on Sept. 14 at the St. Augustine, Fla., Gentlemen of the Road concert.
Babel, released in September 2012, sold over 600,000 copies in its first week, debuting at No. 1 in the United States and United Kingdom. The album became the fastest-selling album of 2012 in the UK – and the second-biggest selling debut in 2012 in the U.S.
The English folk rock band is fresh off its 2013 Grammy win for Album of the Year for Babel. They also won the 2013 Brit Award for Best British Group, securing their celebrity status as folk and bluegrass gods.
TicketsTeam.com isn't associated with Mumford & Sons, their concerts' official promoter, the tour venues, nor any member of the band.