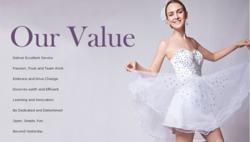 (PRWEB) April 04, 2013
Today, XDresses.com, a leading wedding dresses supplier, released its new collection of maternity wedding dresses, and offered 30-60% discounts on these new dresses.
XDresses.com's wedding dresses are famous for their high-quality fabrics, exquisite embroidery, and proper ruching. The new collection is no exception. Each maternity wedding dress is a sincere testimony of exclusive craftsmanship and expertise. According to a senior designer of XDresses.com, "These new dresses are specially designed to complement your curves at any stage of your pregnancy."
"I am excited to introduce this new collection to our customers. Xdresses.com is the premier destination for maternity dresses, and you can buy a quality and cheap wedding dress here," said, Mr. Lee, CEO of the company. "Rather than spending weeks going from store to store in search of a dress at a reasonable price, you can shop right from the comfort of your home at XDresses.com."
In addition, XDresses.com is giving great savings on their women's dresses, including sweet 16 dresses, sexy evening gowns, beautiful bridesmaid dresses, lovely cocktail dresses, and more.
About XDresses.com
Founded in 2006, XDresses.com is a reliable online store for Quinceanera dresses, prom dresses, wedding dresses, etc. XDresses.com accepts a customer's own design, and provides custom service. The company is providing customers worldwide with a wide range of products at acceptable low rates.