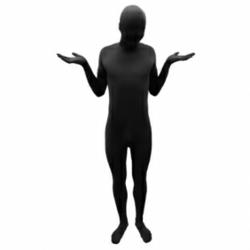 (PRWEB) April 04, 2013
SpandexZentaiSuits, a reliable online store of Zentai suits, is now offering great discounts, 40-50% discount, on all its Zentai suits. In addition, the company will release 6 new designs of Lycra Zentai suits next Monday.
SpandexZentaiSuits.com is well-known for its colorful Zentai suits (green Zentai suits, black Zentai suits, and more), and people like these suits because of their fashionable designs, delicate craftsmanship, and affordable prices as well.
"We are proud of providing high-quality discounted suits to expand our market share, and the discount is up to 50% off," said, Rui Lee, CEO of the company. "More and more people choose Zentai suits as their best party costume idea in various occasions, such as Halloween parties, football stadiums, bus stations, and more. Please contact with us before you make a purchasing decision."
One of the Lycra Zentai suits (item code: A002), black Lycra spandex morph Zentai suits, was previously priced at $39.99, and it is offered at a new discounted price of $19.99.
Sensing the need of consumers for fun and entertainment, SpandexZentaiSuits designers came up with innovative suits and provide one-stop shopping experience for customers with its wide range of Zentai suits, which are especially designed to be worn as the best party costume idea.
In addition, SpandexZentaiSuits is offering heavy discounts on other products, including full body Bodysuits, Catsuits, superhero costumes, morph suits, and, etc. Moreover, custom suits are also available without extra charge at SpandexZentaiSuits.com.
About SpandexZentaiSuits
SpandexZentaiSuits is a leading manufacturer and retailer of high-quality Zentai suits, offering hundreds of different styles of Zentai suits. Along with the discounts, SpandexZentaiSuits is continuing to offer discounted shipping fees to all customers worldwide.
More information can be found at http://www.spandexzentaisuits.com/