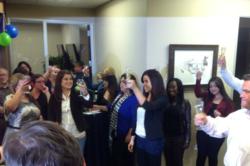 "I am very excited about our company. We have many projects going on and I would like to congratulate all of you for making our company what it is today." ~Mike Kaiser
(PRWEB) April 08, 2013
What started with one employee fifteen years ago has now over 750 employees and growing!
Michael Kaiser, an RN by trade, started People's Care 15 years ago with one facility and one employee.
April 1, 2013 marks People's Care 15 years of excellent service. Everyone is excited not only by the positive feedback from its clients but at the rate People's Care is growing. The company is getting better and stronger as the years progress thanks to the projects and opportunities continuously driving success to the company.
"I am very excited about our company. We have many projects going"...
(For more of the CEO's message, please click on the video) >>>
Now, that is even a better reason to celebrate!
Alongside these positive developments, People's Care employees are continuously being trained to be able to meet the demands and needs of our clients and the industry, as a whole. People's Care is serious in making sure that each team member is equipped to tackle each challenge with the confidence his training provides.
Depending on the level of dedication, passion and job quality the employee provides, People's Care makes sure such employees are recognized for their efforts, after all, they are the same people who made People's Care what it is today.
According to People's Care COO Tony Kueter, one of the main goals of the company is to provide the kind of quality service that comes naturally as breathing!
A service-oriented culture that should be the core value of each People's Care employee.
Once again, thank you for being huge part of People's Care success.
Other services provided by People's Care:
1. Autism Services
2. Community Integration Training
3. Day Program
4. Home Health/Hospice
5. In Home Senior Care
6. Personal Assistance Program
7. Residential Care
8. Supported Living Services