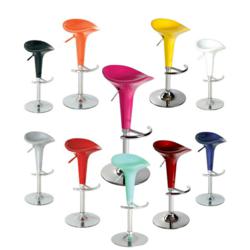 (PRWEB UK) 7 April 2013
As part of the new spring collection, FurnitureInFashion has expanded the bar stool line with the launch of stunning and exotic Pazifik bar stool range. The selection of bar stools includes both larger commercial purchases and smaller home purchases. FurnitureInFashion's new line of modern bar stools features wide range of colors to fit any décor or functionality. Pazifik bar stools range is perfect for use as kitchen bar stools at breakfast bar. The bar stools in Pazifik range have unique and contemporary design which make them perfect for modern homes.
An extraordinary Pazifik bar stool range with contemporary design is available in several colors including silver, red, blue, black, orange, mint green, pink, lime green, ruby red, white and yellow. Bar tools in Pazifik range allow people to have a higher view while drinking, eating and having run with friends and family. These fabulous stools are available in chromed steel structure and a plastic seat. This, along with contemporary colors available in these bar stools, makes Pazifik range very exotic addition to any modern home. Pazifik bar stool range offers stools with highly functionality as the bar stools have 360 degrees swivel capacity. This feature adds unique and exotic look to any home bar or kitchen. These bar stools can be adjusted to any height by using smooth gas lift action. These bar stools have very sleek and slim design which is why when not in use, these stools can easily fit any space without taking up too much space. Pazifik range of bar stools is a great way to get extra seating along with adding a unique ambience in any given space. The bar stools included in Pazifik range have width of 38 cm, depth of 36cm and height between 60 to 78 cm. Pazifik bar stool range is available at very affordable price.
Customers can buy various cheap bar stools online from FurnitureInFashion. The company offers wide choice of designs and styles including swivel bar stools, leather bar stools, wooden bar stools and chrome bar stools. FurnitureInFashion's cheap online bar stool collection lets homeowners complete their interior design with a varietyof styles. Pazifik bar stools are the most common type of bar stool because they allow a larger choice of colors and give bright and vibrant kick in a kitchen or home bar. Pazifik bar stools in chrome and plastic finishes allow homeowners express their creative sides visually.
The Managing Director and CEO of FurnitureInFashion said, "FurnitureInFashion's modern and contemporary bar stools are one of their bestselling items. They are increasing popular not only among commercial retailers like ice cream shops, restaurants and bars but also in homes due to their affordability and the broad selection of styles. FurnitureInFashion has an established clientele who believe in the quality of its bar stools. The company produces all kinds of bar stools whether one needs green bar stools to complement brightly colored room or black leather bar stools to add exotic look in traditional homes. FurnitureInFashion ensures that the stools are of excellent quality and at reasonable prices."
FurnitureInFashion maintains the lowest prices on all furniture including bar stools. The cheap bar stools of FurnitureInFashion are not cheap when it comes to their quality.
To have a look at cheap bar stools online and to place a pre-stock order, please visit the company website today at http://www.furnitureinfashion.net. The range of cheap bar stools online at the website is huge, delivery is fast, savings are massive and the quality is guaranteed.
About FurnitureInFashion
FurnitureInFashion is a UK based online retail business. It supplies furniture items from its German based warehouse and has a showroom in Bolton, UK. The company provides everything from umbrella stand, wall art and room dividers to bedroom, bar stools and computer tables. FurnitureInFashion offers excellent free delivery within UK and has a fantastic customer service as well. For further information and details about the sale, please visit http://www.furnitureinfashion.net