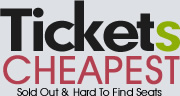 Don't miss the experience of seeing the Rolling Stones live in what may represent their final tour.
Chicago, IL (PRWEB) April 08, 2013
The Rolling Stones Concert at the United Center in Chicago, a part of The Rolling Stones Fifty And Counting Tour, sold out all low price tickets at the box office already in its first 90 minutes on public sale for all three concerts. With face value of even these cheap tickets running $150 or $250 the power of the draw of The Rolling Stones clearly lives up the the legend one might expect. In response to the demand the promoters added the two additional shows in Chicago Illinois and one more Rolling Stones concert in Toronto. Financial Firebird's site to buy cheap concert tickets, specializing in sold out tickets and premium seats still has a large inventory of tickets available for these performances as well as Rolling Stones concert tickets in San Jose and Rolling Stones tickets for Oakland. Other cities on the Rolling Stones Tour include Boston MA, Las Vegas NV, Anaheim CA, Philadelphia PA and Los Angeles CA with the door left open for even more shows announced in the future.
While no one may know what songs they'll hear, a clue of what to expect may come from the set list from a recent Rolling Stones show in New Jersey: Get Off of My Cloud, The Last Time, It's Only Rock 'n' Roll (But I Like It), Paint It Black, Gimme Shelter, Wild Horses, Going Down, Dead Flowers, Who Do You Love?, Doom and Gloom, One More Shot, Miss You, Honky Tonk Women, Before They Make Me Run, Happy, Midnight Rambler, Start Me Up, Tumbling Dice, Brown Sugar, Sympathy for the Devil, You Can't Always Get What You Want, Jumpin' Jack Flash, (I Can't Get No) Satisfaction. Guest stars could also make surprise appearances, examples from 2012 concerts included Lady Gaga and Bruce Springsteen.
With band members all at or near seventy years old, fans should take advantage of the few opportunities to still see live shows as they become available. Despite fast box office sellouts, a large inventory of Rolling Stones Concert Tickets remain available at the Tickets Cheapest website for people to buy concert tickets online. Don't miss the experience of seeing the Rolling Stones live in what may represent their final tour.
About
The Cheapest Tickets pages and its sister sites, including Discount Broadway Tickets online site, all geared for the consumers looking for low prices, are affiliated with the Financial Firebird Corporation Travel Group, and stand among the top sites sought by travelers and people who enjoy concerts, pro sports and theater performances. Financial Firebird Corporation provides unbiased consumer information, software and marketing services - established 2000 and a proud BBB member. These tickets sites operate in the resale market and maintain no relationship with the venues or performers, the resale ticket market allows consumers access to popular events once the box office has sold out or to buy premium seats when the venue no longer offers any inventory. Within the group of these secondary market ticket services the Financial Firebird owned ticket sites offer lower prices than competitors.