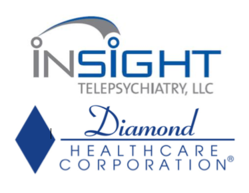 "Diamond's partnership with InSight, a proven leader in the provision of high quality telepsychiatry services, will serve to enhance the impact and effectiveness of Diamond Direct solutions to hospitals seeking our assistance."

--Jamie Free
Richmond, VA (PRWEB) April 04, 2013
Leaders from Diamond Healthcare Corporation and InSight Telepsychiatry, LLC have cemented a strategic partnership aimed at improving behavioral health care options in emergency departments.
Diamond Healthcare Corporation, with over 28 years in behavioral health consulting and management, is a national leader in the planning, development and operation of high quality behavioral health services for healthcare organizations across the nation.
InSight Telepsychiatry, LLC is a national leading telepsychiatry service provider, and the telemedicine leg of the CFG Health Network. Telepsychiatry is one of the most popular applications of telemedicine.
InSight provides telepsychiatry services to a number of facilities including inpatient units, outpatient facilities, FQHCs, primary care offices, crisis centers, schools, nursing homes, correctional facilities, military bases and more.
With the announcement of this partnership, InSight Telepsychiatry will be Diamond's preferred provider of telepsychiatry services in identified markets in the United States. InSight specializes in emergency telepsychiatry, and InSight's 14 years of emergency telepsychiatry experience makes it an applicable partner for Diamond's new "Diamond Direct" service.
Both companies recognize the nearly ubiquitous issue of consumers with behavioral health and chemical dependence problems straining the resources of hospital emergency departments. Some behavioral health patients are boarded in the emergency department before receiving the psychiatric attention they need. An American College of Emergency Physicians (ACEP) survey found that psychiatric patients board in the ED more than twice as long as other patients.2
This issue leads to long wait times and overcrowded hospitals for all patients. Seventy percent of ED physicians have reported an increased number of psychiatric patients "boarding" in the ED.1
The Joint Commission has acknowledged concerns regarding overcrowding and patient boarding in the ED and have released new standards that emphasis the importance of improving patient flow throughout hospitals.
To aid communities in addressing this issue, Diamond Direct provides hospitals with an assessment of the behavioral health processes and care offered in their emergency department. Based on this assessment, Diamond provides recommendations and a customized implementation plan for the hospital. Diamond believes telepsychiatry is an important option in improving the overall operations and continuum of behavioral health care. Through this new partnership, InSight Telepsychiatry is the recommended telepsychiatry provider for facilities where this service is the right solution.
"We believe that Diamond Direct offers hospitals a comprehensive approach to improving the care and through put of behavioral health patients in the emergency departments; this will in turn improve the overall patient experience," said Jamie Free, Senior Vice President, Business Development, Diamond Healthcare Corporation.
"A key component for many hospitals is access to high quality psychiatric resources on a timely basis. Diamond's partnership with InSight, a proven leader in the provision of high quality telepsychiatry services, will serve to enhance the impact and effectiveness of Diamond Direct solutions to hospitals seeking our assistance."
InSight's founder and medical director, Dr. Jim Varrell began practicing telepsychiatry since 1999 and has been at the forefront of telepsychiatry and telemedicine advocacy throughout the nation.
"Hospitals emergency departments across the country are strained for resources, by working to improve the way emergency departments care for their behavioral health consumers, all patients will benefit from shorter wait times and appropriate care," said Dr. Varrell.
"Telepsychiatry is a part of the solution for addressing behavioral health inefficiencies in the emergency department. InSight Telepsychiatry is looking forward to improving the behavioral healthcare of communities through this strategic partnership with Diamond."
Dr. Varrell continues to educate the medical community regarding the benefits of telepsychiatry. He has served as a panelist and presenter, including his presentations at the American Psychiatric Association, the American Telemedicine Association and the National Rural Health Association. Dr. Varrell also presented at Diamond's "Patients in Crisis in the Emergency Department" Conference in October 2012.