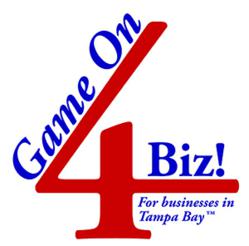 Telling the best stories of businesses in Tampa Bay.
Tampa Bay, FL (PRWEB) April 04, 2013
GameOn4Kids, LLC, a leading publisher of locally focused youth sports has unveiled a new pro business website GameOn4Biz.com. In addition, the group announced the merger of http://www.ExclaimitHEALTH.com to kick start the website.
The new website will promote and market Tampa Bay businesses unlike any business publication in the history of the area.
Steve Lee, a former St. Petersburg Times sportswriter in Pasco County and Barry Carroll an award-winning journalist and marketing consultant, and a team of others, have joined together to break new ground for businesses that desire to tell their stories, but up until now have been prohibited because they are not connected to the media establishment.
"Now everyone can be connected through GameOn4Biz," said Lee, who has been writing, editing or directing sports sections for dailies, monthlies and weeklies over the past 20 years in the Tampa Bay area including the Tampa Bay Times.
Barry Carroll has served as a reporter, editor and publisher for Tampa Bay Business Journal, Payment Systems Newsletter, and Doctor of Dentistry magazine respectively. As a marketing consultant, he focuses on the healthcare industry developing strategies to convert prospects into clients.
"We are extremely pleased to announce the merger of our internet property http://www.ExclaimitHEALTH.com, said Carroll, president of Exclaimit!, Inc. "Through GameOn4Biz!, we will continue to tell the best stories of business in Tampa Bay with the added benefit of our sister website GameOn4Kids.com."
For more information about GameOn4Biz! please contact Steve Lee at (813) 486-3138 (SLee (at) GameOn4Kids (dot) com) or Barry Carroll at (813) 731-8718 (Barry (at) Exclaimit (dot) com).