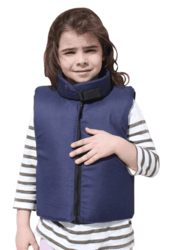 sales have increased sharply in recent months
(PRWEB) April 05, 2013
The new range of child friendly designs is more colorful and varied than standard adult protective gear and includes bullet proof back packs suitable for school use. The vests are approved by the US National Institute of Justice. Among the most popular model is the level 3A bullet proof vest which offers protection against common handguns as well as the rapid fire rifles used in recent school shootings.
Shahar Geva CEO of Israel-Catalog.com said: " This was a never a distinct market however sales have increased sharply in recent months. The range of available bullet proof vest for sale designed to provide 360 degree protection to the upper body from the waist up and to including the neck. They are made to Israeli army standard made to be lightweight yet protective."
On December 14, 2012 Twenty children and six adults were killed at the Sandy Hook Elementary School, the most deadly of thirty one school shootings in the US since the massacre at the Columbine High School in Colorado in 1999, when two senior students shot dead twelve children and one teacher.
Although vests are traditionally a trademark of police, and security personal, the increased fear of gun crime on the streets and especially in schools has led to an unexpected presence of body armor within commercial industry.
Bulletproof vests are designed to help absorb the impact from firearm-fired projectiles and shrapnel from explosions, and are worn on the torso providing protect to the body's essential organs. They are made from many layers of woven or laminated fibers and can usually guarantee protection from small-caliber handgun and shotgun projectiles. Many bullet proof vests are made from Kevlar, a high strength material spun into sheets which is around five times stronger than steel.
Geva added: "With sales of bullet proof vests up well over 100% parents are thinking more than ever before about protective gear."