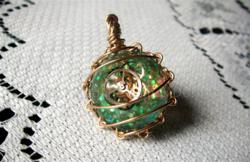 "What I didn't know was how deeply I would fall in love with it, to the point of opening a business" Eleanor said.
London, UK (PRWEB) April 06, 2013
With a passion for jewellery and accessories, Eleanor, owner of Jayne James Designs had always been involved in the Creative Arts. Little did she know that dabbling in accessory making would provide her with a new career path and a successful business.
In a recent interview with Profile Tree, Eleanor spoke of her motivation in starting a jewellery business and making unique handcrafted jewellery with a twist she said, "I think that jewellery can tell you a lot about an individual, their personal taste, and how they are feeling in a given mood. What I didn't know was how deeply I would fall in love with it, to the point of opening a business."
Managing a full time job and a small business on the side is no easy task but Eleanor sees it differently: "...absolutely love the creative control over both the pieces (that she makes) and business in general."
She attributes a big part of her success in the jewellery making business to social/professional networking and marketing options.
Ciaran Connolly, Co-Founder of Profile Tree advises anyone considering a small business to always keep updated with social media and no-charge online postings: "Online networking can make a big difference to your survival in the business world."
According to Eleanor, JJD's mission statement is to create originally designed, hand-crafted pieces with care, focus and passion, in which the wearer can take great pleasure knowing that their chosen items are theirs and theirs alone.
Profile Tree's main goal is to help small business owners reach new customers every day with the most innovative online marketing tips and techniques.
About ProfileTree: ProfileTree is a free listing service where self employed and small business owner can create an online marketing profile. From Pencil or Portrait Artist to Self Employed Service Providers - anyone can create a skills profile on ProfileTree for free.