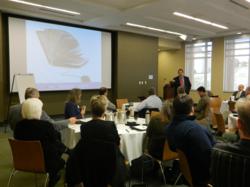 CLARKESVILLE, Ga. (PRWEB) April 06, 2013
A new high-speed fiber optic network in North Georgia prompted a meeting March 15, 2013, of eight school systems, the University of North Georgia, the Georgia Department of Education and the North Georgia Network to talk about developing a regional education network to share learning in North Georgia.
School superintendents and information technology directors from Forsyth, Lumpkin, White, Habersham, Union, Dawson, Towns and Franklin Schools, meeting at the University of North Georgia, agreed to share and develop an "educational cloud" on the North Georgia Network, which connects schools in the region. This shared information access allows such things as electronic textbooks, internet security, and access to college classes and video conferencing, needs that were recognized in meeting discussions.
"This new fiber network is the foundation of future technologies for K-20 education in Georgia," said William Sperin, Information Technology Director for White County Schools, who organized the meeting. "It will enable our students to achieve things they never dreamed of as they pursue their careers."
The North Georgia Network, in addition to providing a gigabit Internet connection to schools in the region, has also developed a 10-gigabit cloud for exclusive use by the school systems. Schools will govern the content, activity and access to this cloud, which is dedicated to the development of shared educational services.
Co-organizer of the event, Bailey Mitchell, Chief Information and Technology Officer with Forsyth County Schools, showed where his school system reduced textbook spending from $3 million in 2008 to $500,000 today, demonstrating the savings potential with the adoption of E-textbooks.
"In the future funding for textbooks is going to be diverted into digital content, assessments and more "blended" opportunities for learning," said Mitchell. "Internet connectivity, learning platforms and access to online resources will become essential. Georgia's school will need the flexibility to deploy educational services quickly and reliably in a hybrid model of face-to-face and online learning as student needs change."
Explaining the potential of the North Georgia Network during the meeting, Paul Belk, president of the North Georgia Network, said "This network is about better education which leads to economic development which provides all of us a better quality of life here in North Georgia."
The University of North Georgia, an original partner in the development of the North Georgia Network, now has a gigabit connection to the network and will help develop services and university-level content that can be shared with schools. Most of the university's academic departments incorporate online assignments into their courses, and the university delivers an array of Internet-based courses and some fully online degree programs, such as international affairs, criminal justice, among others.
From this first meeting, the group will work on making the technical connections to the education cloud, and prioritize the tools they can develop and share. The University of North Georgia will facilitate a regional grant process to develop shared learning on the new network platform.