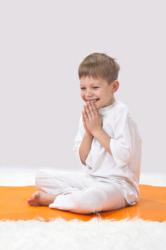 The Shambala Kids Relaxation Training is an amazing program. These techniques will have a big impact on children and their emotional health. Invaluable!
Metuchen, NJ (PRWEB) April 05, 2013
Kids' relaxation classes allow children to acquire valuable children's relaxation skills "before they form ideas that can block or impair positive traits as self-esteem, self-confidence and the abilities to manage stress and worry," said Mellisa Dormoy, founder and CEO of Shambala Kids. Classes for children are opening in the United States and Australia in April and May.
Shambala Kids Relax classes for children four through nine meet for 45 minutes to an hour. Kids Relax Club classes, open to children 10 through 13, meet for an hour.
Skills specific to stress include relaxation exercises, stress management for children techniques, breathing to relax and worry-release techniques. Those broaden into additional skills, including self-confidence, avoiding negative self-images, guided visualization, cooperative games, the power of positive affirmation and how to be mindful. "And more," says Dormoy. More, she said, includes her acclaimed CDs and MP3s, work sheets and crafts. Each child receives a CD to keep during an eight-week session. Relax Class themes include Imagination Island, Castle in the Clouds and Outer Space Odyssey. Many other CDs are available for purchase at the Shambala Kids web site, including CDs and MP3 downloads specifically for attention-deficit/hyperactivity disorder and the autism spectrum.
She has been working with families on relaxation and children and self-esteem skills since she founded Shambala Kids in 2005, and says that too often when children experience worry and stress it's regarded—or disregarded—as "just a difficult phase. And, even if that's the case, it is still the perfect time to equip them with skills like relaxation for children that they will use immediately with positive results, and continue to use and retain throughout life. Young children are interested in learning everything, so you don't face the challenges you might have if you saw that your child needed skills to diminish worries at 16 or 17," Dormoy added. Better sleep is an added benefit of all these skills, she said.
Some parents, Dormoy said, seek classes on meditation for children. The skills taught in Shambala Kids Relax classes and Kids Relax Club include the skills used in meditation in a practical, everyday setting so children are more likely to use and master the skills, she added. Children can apply all of the topics taught, such as stress management, worry release, confidence and reducing negative self-talk to success at school and in other settings as well as at home. Dormoy designs movement, relaxation and games into class activities so learning is fun as well as useful.
"The Shambala Kids Relaxation Training is an amazing program. These techniques will have a big impact on children and their emotional health. Invaluable!" said Kristi Riasch, a holistic health coach in the Denver area and ShambalaKids Instructor.
To find out more about kids relaxation classes or CDs/MP3s, teacher training and other "how to feel good – from the inside out," programs for kids, visit Shambala Kids at http://www.kidsmeditationcds.net/. Voice mail is built into the site.
Company
Shambala Kids provides teachers, parents and therapists online and in-person resources to teach children and teens how to relax; how to decrease worries with worry-release and other skills; how to eliminate negative self-talk and instead affirm positive attitudes; and how to develop helpful behaviors such as stress management, breathing, relaxation, peaceful sleep, confidence and mindfulness. It was founded in 2005 by Mellisa Dormoy, Certified Hypnotherapist (CHt) and specialist in pediatric hypnosis, who holds a B.A. in psychology and did graduate work at the Sorbonne, the University of Paris. In 2005 adult hypnotherapy clients asked Dormoy to develop CDs and MP3s to teach the same skills to children, and she began to develop Shambala Kids.
###
Contact:
Mellisa Dormoy
Founder and CEO
ShambalaKids and ShambalaTeens
shambalakids(at)gmail(dot)com
732.800.0510 (Business)
http://www.kidsmeditationcds.net/
15 Lincoln Avenue
Metuchen, NJ 08840