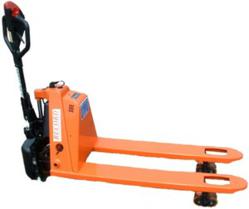 (PRWEB UK) 8 April 2013
Following on from the recent purchase of Teknion, who were based in Oldham for over 20 years, Handling Equipment Sales have added the Challenger line to their line of equipment. Handling Equipment Sales saw this acquisition as a good opportunity to increase their market share whilst increasing their customer list and product range.
Challenger pallet trucks, hi-lifters and stackers have been part of the pedestrian materials handling industry for many years. To help with this acquisition and with the increased product range, Handling Equipment Sales has also increased its warehouse capacity from just over 3000 square feet to over 7000 square feet to cater for the increased stock requirement. With this increased space for stock and increase in customer orders, this can ensure that customers get what they need today rather than tomorrow. As Handling Equipment Sales have extended their existing building with a new unit next door, the stock amount has increased three fold in the same area.
The range of products sold by Handling Equipment Sales has increased significantly over the past 10 years, with the addition of a wide range of different items. Semi powered and fully powered stackers and a full range of stainless steel equipment has been added to ensure that companies have the best equipment that they need.
With more companies looking at health and safety issues, Handling Equipment Sales has seen an increase in powered stackers and other equipment which can increase the safety levels wherever the equipment is used. With this increased health and safety awareness there have been many success stories across the country which shows how the new product ranges are being utilised.
For more information on the products available from Handling Equipment Sales, feel free to visit their website at http://www.handling-equipment.co.uk.