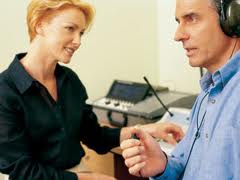 These early results beg the question that if an individual loses their hearing due to the fault of a past employer; is that employer then also responsible for the later cognitive consequences of hearing loss?
Bolton UK (PRWEB UK) 5 April 2013
People who are hard of hearing have increased odds of developing dementia as they age (1). It is suspected that hearing loss can increase the speed at which thinking and memory deteriorates with age, new research suggests.
Hearing loss caused by work, also known as industrial deafness, may then contribute to these consequences. Hearing loss caused by work sees a victim's hearing deteriorate much more quickly than usual - possibly exacerbating the deterioration of cognitive function at an earlier stage.
Commenting on the results of this research, Mr John King, Business Development Manager at Asons Solicitors, said that:
"These results are remarkable. Clearly, wider research needs to be conducted to cement their findings, but these early results beg the question that if an individual loses their hearing due to the fault of a past employer; is that employer then also responsible for the later cognitive consequences of hearing loss? We shall see"
The study was carried out over a period of six years, in which volunteers with hearing loss, undergoing repeated cognition tests over six years, had cognitive abilities that declined some 30 percent to 40 percent faster than in those whose hearing was normal (1). Levels of declining brain function were directly related to the amount of hearing loss, the researchers say(1). On average, older adults with hearing loss developed a significant impairment in their cognitive abilities 3.2 years sooner than those with normal hearing.
The researchers stated the levels of declining brain function were directly related to the amount of hearing loss. Almost 2,000 men and women between the ages of 75 and 84 took part in the research, part of an investigation called the Health, Aging and Body Composition (Health ABC) study.
All were given hearing tests which involved listening to a range of soft and loud sounds in a soundproof room. Older adults with hearing loss are more likely to develop problems thinking and remembering than older adults whose hearing is normal, according to the study.
According to senior study investigator and Johns Hopkins University School of Medicine otologist epidemiologist Dr Frank Lin, all study participants had normal brain function when the study began in 2001, and were initially tested for hearing loss, which hearing specialists define as recognizing only those sounds louder than 25 decibels.
Dr Lin estimates that as many as 27 million Americans over age 50, including two-thirds of men and women aged 70 years and older, suffer from some form of hearing loss (1).
More worrisome, he says, only 15 percent of those who need a hearing aid get one, leaving much of the problem and its consequences untreated. "Our findings emphasize just how important it is for physicians to discuss hearing with their patients and to be proactive in addressing any hearing declines over time," says Dr Lin (1).
"Where an individual has suffered from occupational deafness and has yet to gain a hearing aid; damages awarded as the result of a deafness claim could help them to obtain hearing aids, possibly mitigating the threat of early on-set dementia. To say for sure though, further research needs to be undertaken" adds Mr King.
The findings are reported in the JAMA Internal Medicine online Jan 21. "Our results show that hearing loss should not be considered an inconsequential part of aging, because it may come with some serious long-term consequences to healthy brain functioning," says Dr Lin (1).
He says possible explanations for the cognitive slide include the ties between hearing loss and social isolation, with loneliness being well established in previous research as a risk factor for cognitive decline. Degraded hearing may also force the brain to devote too much of its energy to processing sound, and at the expense of energy spent on memory and thinking. He adds there may also be some common, underlying damage that leads to both hearing and cognitive problems(1).
The prevalence of dementia is projected to double every 20 years because of the world's ageing population, so identifying the factors and understanding the pathways that lead to cognitive decline and dementia in older adults is a public health priority, the researchers explain.
Lin and his team already have plans under way to launch a much larger study to determine if use of hearing aids or other devices to treat hearing loss in older adults might forestall or delay cognitive decline.
In the latest study, which began in 1997, all participants were in good general physical health at the time. Hearing tests were given to volunteers in 2001, during which they individually listened to a range of soft and loud sounds, from 0 decibels to 100 decibels, in a soundproof room (1).
Brain functioning was also assessed in 2001, using two well-recognized tests of memory and thinking ability, known as the Modified Mini-Mental State (3MS) and Digit Symbol Substitution (DSS), and none had any evidence of mental decline when the study began in 2001. Included in the 3MS test, study participants were asked to memorize words, given commands or instructional tasks to follow, and asked basic questions as to the correct year, date and time. In the DSS test, study participants were asked to match specific numbers to symbols and timed on how long it took them to complete the task. Both types of tests were repeated for each study participant three more times until the study ended in 2007, to gauge cognitive decline. Factors already known to contribute to loss of brain function were accounted for in the researchers' analysis (1).
The team now plans a much larger study to look at whether hearing aids or other devices used to treat hearing loss can delay mental decline.
Reference:
(1) JAMA Intern Med. Published online January 21, 2013. doi:10.1001/jamainternmed.2013.1880. "Hearing Loss May Be Related to Cognitive Decline in Older Adults" Frank R. Lin, M.D., Ph.D., et al, The Johns Hopkins Center on Aging and Health, Baltimore

About Asons Solicitors:
Asons Solicitors is a Bolton-based law practice that specialises in medical negligence and industrial disease claims. Founded by brothers Imran Akram and Kamran Akram, Asons Solicitors has developed to become a young and dynamic law firm that delivers practical solutions to clients in times of difficulty. Their continued focus on their staff has seen them awarded with the Investors in People "Gold Award"; which is reflected in the professional and personable approach they take in working with clients. They strive to grow and to develop, and their supportiveness and attention to detail ensures that their clients use them time and again.
For further information contact:
Email: info(at)asons(dot)co(dot)uk
Website: http://www.asons.co.uk