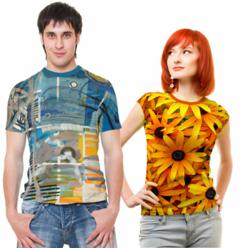 You have my upmost respect for identifying and starting up in this unique niche market for t-shirts.
The Hague, the Netherlands (PRWEB) April 05, 2013
Photo2Fashion announces today the official launch of http://www.photo2fashion.com, a website devoted to all over t-shirt printing of custom-design t-shirts, to free 3D what-you-see-is-what-you-get t-shirt design online and to sharing and storing t-shirt designs made by customers. Leveraging the possibilities of digital textile printing, Photo2Fashion has no minimum order quantity and delivers worldwide. Its web services are ideal for individual consumers and for professional prototype developers.
The website has a unique design module that maps user provided images such as photos and artwork to a 3D representation of the t-shirt. The correspondence between the online presentation and the real world sewing pieces of the resulting t-shirt is exact. For all over t-shirt printing this is essential because customers need to see their designs from all angles before they purchase the t-shirts. With this approach Photo2Fashion offers real high quality all over t-shirt printing also at difficult spots such as seams and armpits.
"I am very proud that we have launched our website now", said dr. Meijer, founder and owner. "With our 3D design web service for full t-shirt printing, completely new t-shirt designs that are never seen before, are easy to make and order. I am confident that we offer an enjoyable design experience. It only takes a few clicks and I invite all t-shirt enthusiasts to give it a try for free."
About Photo2Fashion
Photo2Fashion was founded in the Netherlands in 2010 by Herman Meijer, as a lean startup and network organization, working with professionals and companies throughout the world. Photo2Fashion is a t-shirt printing business dedicated to the 3D design and delivery of custom made all over printed t-shirts through the internet. Photo2Fashion's strategic roadmap includes new t-shirt models, all over printed sweatshirts and jeans and design community services such as design contests and sell-your-own-design.