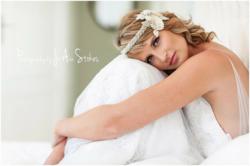 "There is nothing more satisfying that giving clients photos that they love and will treasure all their lives" Stokes says
Capetown, South Africa (PRWEB) April 07, 2013
Jo-Anne Stokes, a Photographer in Cape Town sat with ProfileTree to talk about the art of photography and the balance between creating memories that last for everyone and managing a small successful business.
A day in the life of a photographer is not as exciting as it looks, people often only see the glamorous side of photography – the photo shoots, capturing that magical shot and attending events. But it also comes with time and financial management as well as marketing. It is for these reasons that ProfileTree reached out to Jo-Anne Stokes to get the inside story as a Wedding Photographer in Cape Town.
When asked about the advantages that come with being a professional photographer, Stokes said "I get to share in my clients' very special occasions ...and luckily most of them are very happy moments! There is nothing more satisfying that giving clients photos that they love and will treasure all their lives."
Stokes accredited a big part of her success as a photographer to Social Media, saying "Social media is as great as word of mouth, it has allowed me to have a more visible profile."
Ciaran Connelly, Co Founder of Profile Tree says that social media "make it or break it for a budding business, it is the easiest medium for marketing with a measurable impact on the business, the only cost is time. Time is invested in building your brand online". Creating a skills profile online can help with this - ensuring as many people as possible will be exposed to the business."
Stokes spoke extensively to Profile Tree about balancing work and family life and the joy she finds in capturing timeless memories with her camera among other aspect in her life as a photographer.
About ProfileTree: ProfileTree is a free listing service where self employed and small business owner can create an online marketing profile. Profile Tree's main goal is to help small business owners reach new customers every day with the most innovative online marketing tips and techniques. The website also enjoys sharing motivation photos for the self employed, helping with focus and drive. From professional wedding photographers to anyone offering a service - it can be listed online today.