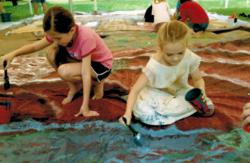 "For kids and teens, our Summer Theatre Camps are a chance to learn and grow while having fun and making friends." -Nathan Rotz, Executive Director
Fayetteville, PA (PRWEB) April 10, 2013
Camp is an integral part of the summer experience for many children and teens. For those with an interest in the arts, Totem Pole Playhouse's Summer Theatre Camps have provided an opportunity to turn an interest in the performing arts into a lasting appreciation of theatre built upon learning and actual performance and production. For 2013, Totem Pole is pleased to present a series of three Summer Theatre Camps, covering ages 8 through 18. Each camp takes place at Totem Pole Playhouse's facilities nestled amongst the trees of beautiful Caledonia State Park, off historic U.S. 30 between Gettysburg and Chambersburg, in the mountains of south-central Pennsylvania. The camps each last for two weeks and are taught by skilled instructors who have passed strict clearance and background checks.
"Our goal in presenting the Summer Theatre Camps is much the same as our goals for the Playhouse itself; to give people the chance to become familiar with, enjoy and get involved with theatre in a way that is accessible, affordable and of the highest possible quality," said Nathan Rotz, Executive Director of Totem Pole Playhouse. "For kids and teens, our Summer Theatre Camps are a chance to learn and grow while having fun and making friends. For parents, they are a chance to be reassured that their children will be safe, cared for and inspired, all at a great value."
The Children's Theatre Camp runs weekdays from 10 a.m. until 3 p.m. from June 17 through June 28 giving 8 to 12-year-olds the opportunity to discover the magic of theatre while performing in an actual production of the beloved fairy tale Peter Pan that is free to the public. Besides acting, campers will learn skills in creating vibrant characters, set design, costumes and makeup.
The Teens' Theatre Camp runs weekdays from 10 a.m. until 4 p.m. from June 8 through 19 giving 12 to 18-year-olds the chance to choose and create their own scenes inspired by favorite plays, books, films or television series. Following a curriculum called The Hero's Journey, teen campers will delve deeper into acting and character development, learning techniques taught at the university level. Campers will choose and write nine scenes of their own to incorporate into a full-length play presented free to the public.
A favorite among young aspiring performers the Comedy and Improv Theatre Camp runs weekdays from 10 a.m. until 4 p.m. from July 22 through August 2. The Comedy and Improv Theatre Camp gives campers the opportunity to perform in a free-to-the-public show similar to Saturday Night Live or Whose Line Is It Anyway? In preparing for the show campers will learn about creating humorous and zany characters, developing sketches and creating true improvisational scenes at the spur of the moment. Valuable life skills in teamwork, creativity and interpersonal communication are taught through the fun of performing sketch and improv comedy.
Registration for all camps is now open and spaces are filling fast. All three of this year's camps are sponsored by Meritus Health Trauma and Emergency Services. Full information on the camps and registration materials are available at TotemPolePlayhouse.org or by calling 717-352-2164. Registration for each two week camp is $385 per camper. A limited number of scholarships are available based on need and number of registrants. Applications for scholarships are available with camp registration materials.
###
About Totem Pole Playhouse
Nestled in Caledonia State Park about 13 miles west of Gettysburg and 10 miles east of Chambersburg on U.S. 30, Totem Pole Playhouse has become home to an enclave of professional performing artists including Jean Stapleton, Curtis Armstrong, Harry Groener, Henry Strozier, John Ritter, Barbara Feldman and Sandy Dennis. Totem Pole Playhouse opens its 63rd season in May of 2013. For more information about Totem Pole Playhouse, the line-up of productions for the 2013 season, or ticket information, please visit TotemPolePlayhouse.org.