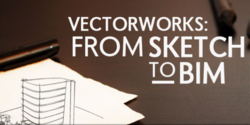 This unique competition builds on the tradition of the great architects who sketched some of their greatest works on napkins.
Columbia, MD (PRWEB) April 04, 2013
Nemetschek Vectorworks, Inc. is proud to announce its sponsorship of the 2013 Architectural Record Cocktail Napkin Sketch Contest. Through this contest, architects and related professionals in the United States are asked to share a creative concept on a five-inch-by-five-inch cocktail napkin. The hand-drawn designs can be submitted in one of two categories: Professional or Non-Professional.
"We're thrilled to have Nemetschek Vectorworks as a sponsor of our third annual Cocktail Napkin Sketch Competition," said Laura Viscusi, vice president of McGraw-Hill Construction Media and publisher of Architectural Record, GreenSource and SNAP. "This unique competition builds on the tradition of the great architects who sketched some of their greatest works on napkins. Active architects in firms of all sizes and stages participate. The program even inspires firms to have sketching cocktail parties. It's just one more way that architects engage with Architectural Record and now, Nemetschek Vectorworks."
Past entries have included drawings of iconic buildings, sketches of ancient masterworks and studies on the design process. Two grand prize winning submissions will be published in Architectural Record, and winners will receive a box of napkins printed with their sketches. The contest launched April 1, and the winners will be announced in September. Visit http://archrecord.construction.com/call4entries/Napkin-Sketch-Contest-2013.asp to learn more or to enter.
To complement the contest, the Nemetschek Vectorworks architectural industry experts will demonstrate at http://www.vectorworks.net/sketchtobim how architects can turn a hand-drawn sketch into a building information model (BIM) in Vectorworks software. Visitors to the site will have the opportunity to vote on a project and design details. All voters at each phase will be registered for a chance to win a Wacom® Intuos5 pen tablet, a tool that provides users with a completely natural and intuitive platform for drawing and sketching digitally.
About Nemetschek Vectorworks, Inc.
Nemetschek Vectorworks, Inc. is a wholly owned subsidiary of the Nemetschek Group and has been developing software since 1985. The Vectorworks line of software products provides professional design solutions for more than 450,000 designers in the AEC, entertainment and landscape design industries. With a tradition of designing flexible, versatile, intuitive and affordable CAD and BIM solutions, Nemetschek Vectorworks continues to be a global leader in 3D design technologies. For more information, visit http://www.vectorworks.net.
###