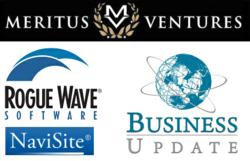 Jupiter, FL (PRWEB) April 19, 2013
DMG Productions announced today that an upcoming episode of Business Update, centered on the latest advancements and trends impacting all areas of society, will be airing on April 21, 2013 at 5:00 p.m. EDT via Fox Business.
In this episode, Business Update will feature Meritus Ventures, a premier venture capital firm for the Appalachian region of the United States. This segment will focus on the social and economic impact of venture capital in the United States. From upstart technology firms to innovative products and services, viewers will learn how venture capital is helping American businesses boom.
Additionally, the show will explore NaviSite, a leading international provider of a full suite of reliable and scalable managed services, including applications, industry-leading enterprise hosting, and managed cloud services. Audiences will be educated on the fast-paced information technology industry, and the rapid changes that are impacting every facet of life today.
Business Update will also showcase Rogue Wave Software, the largest independent provider of cross-platform software development tools and embedded components for the next generation of (High Performance and Productivity Computing) HPC applications. This segment will take a look at the current challenges created by HPC hardware and the software development tools available to help organizations overcome these challenges.
"We look forward to watching these stories unfold, and are eager to provide our viewers with this behind-the-scenes look at the unique companies who are helping to stimulate our economy and expand business throughout the country," said Sarah Cass, Creative Director for DMG Productions and the series.
About Business Update:
Business Update is a corporate-America type series covering the world of business, finance and technology. From Main Street to Wall Street, our award-winning producers take an in-depth look into some of the hottest topics and current trends impacting our society.
About DMG Productions:
The DMG productions team consists of producers, cameraman and editors that have worked for CNN, TLC, Discovery, and other major news and cable networks. Our staff includes personnel specialized in various fields from agriculture to medicine, independent films to regional news. Our field producers utilize the core concepts from our producers who storyboard our programs, and work closely with experts in the field to develop the educational programs. This powerful force enables us to consistently produce commercial-free, educational programming that both viewers and networks depend on.
Contact:
Sarah Cass
Creative Director ─ DMG Productions
(866) 496-4065 X 802
sarah(at)dmgproductions(dot)org