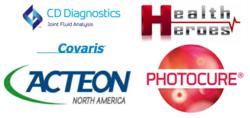 Jupiter, FL (PRWEB) April 12, 2013
DMG Productions announced today that an upcoming episode of Health Heroes, centered on the latest advancements in health and wellness will be airing on April 15, 2013 at 7:00 a.m. EST via The Discovery Channel.
In this episode, Health Heroes will showcase Photocure, Inc., the world leader in photodynamic technology. Audiences will learn about Blue Light Cystoscopy with Cysview; which is indicated for use in the cystoscopic detection of non-muscle invasive papillary cancer of the bladder among patients suspected or known to have lesions on the basis of a prior cystoscopy.
In addition, Health Heroes will feature Covaris, a company whose wide variety of applications in fields like life sciences and genetics makes them quite literally, on the cutting edge. Viewers will be educated on a scientific community that is more active than ever before.
The show will examine CD Diagnostics, a leader in joint fluid analysis. Viewers will learn about the impact of CD Diagnostics' game changing technology for the orthopaedic community, and will be informed on CD Diagnostics' biomarker screening program, patented technology, and its core strengths in immunoassay development and manufacturing.
The episode will also explore Acteon North America, who is consistently on the forefront of technological advancements, with a team of biologists, electronics engineers, mechanics, and digital signal specialists. Health Heroes audiences will learn about the medical equipment being produced at Acteon, and their continuous efforts at enhancing products to reflect the most recent innovations.
"Health Heroes is really looking forward to educating the public on some of the innovative breakthroughs and advancements currently being made in the medical community," said Michele Nehls, Producer for the series.
About Health Heroes:
Health Heroes is a powerful TV series dedicated to defining and exploring today's latest medical advances in all areas of health and wellness. Written with both the industry professional and television audience in mind, Health Heroes educates, entertains and enlightens the lives of our viewers.
About DMG Productions:
The DMG productions team consists of producers, cameraman and editors that have worked for CNN, TLC, Discovery, and other major news and cable networks. Our staff includes personnel specialized in various fields from agriculture to medicine, independent films to regional news. Our field producers utilize the core concepts from our producers who storyboard our programs, and work closely with experts in the field to develop the educational programs. This powerful force enables us to consistently produce commercial-free, educational programming that both viewers and networks depend on.
Contact:
Michele Nehls, Producer
Health Heroes / DMG Productions
(866) 496-4065 X 822
michele(at)dmgproductions(dot)org