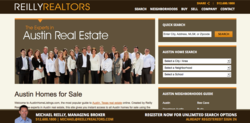 We've worked very hard to put together the most comprehensive and user friendly version of our website to date.
Austin, Texas (PRWEB) April 04, 2013
Reilly Realtors, a leading Austin, Texas real estate brokerage, is excited to announce the new and improved version of their website, http://www.AustinHomeListings.com. The new release is the third generation of their popular website and includes many exciting updates for their users such as more property details, enhanced usability features, improved mobile device compatibility, new advanced search features and a variety of map based searches.
Michael Reilly, managing broker of the Austin real estate brokerage, excitedly reports, "We've worked very hard to put together the most comprehensive, user friendly real estate site in the Austin area. We're confident Austin home buyers will love our new search tools."
One of the more important aspects of the new site is the way in which it has been specifically crafted to accommodate mobile devices. Tablets and smartphones continue to grow in popularity and many experts believe that mobile devices will surpass the usage of traditional desktop/laptop internet access as early as 2014. Always keeping the customer in mind, Reilly Realtors has made the latest version of their website completely compatible with all of the latest tablets and smartphones, so no matter which device a client might be using, they will always have access to the best Austin home search site available.
The launch of the new site is equally exciting for Reilly Realtors agents, as it will greatly improve their ability to meet customers' needs and generate an even greater number of sales opportunities.
"A well built website creates a sense of trust with potential prospects before we even meet in person. It makes connecting with new clients much easier," says Holly Herring, an agent at Reilly Realtors.
In fact, the technology behind the new site contains significant advances in helping their agents more quickly and easily serves their client's online inquiries. Today's buyers are accustomed to having better access to information and the new website enables the agents of Reilly Realtors to help meet their user's real estate related needs.
Damon Brown, another top producing agent of Reilly Realtors says, "I'm excited about the newest version of the site and how it will allow me to better serve the needs of my clients."
To build the newest version of their website, Reilly Realtors, LLC hired the global leader in real-estate web design and marketing, Real Estate Webmasters. The British Columbia based company specializes in high end, custom built websites for real estate brokerages.
Morgan Carey, CEO of Real Estate Webmasters says, "It's always a pleasure when are able to work with such forward thinking and technologically evolved customers. Michael and his team were great to work with, and we are thrilled with the outcome of this project."
With Reilly Realtors' history of being ahead of the curve, such innovations have come to be expected from this forward thinking brokerage. In 2006, Reilly could already see how important the internet would be to the real estate industry. He created one of the first map-based real estate websites in Austin, an innovation that was ahead of its time and has now been adopted by nearly all competitors in the industry. Seven years later, his foresight has proven to be spot on and continues to guide his success in providing an enjoyable and engaging format for searching, buying and selling Austin homes. To find out more about the exciting, new website, check out Reilly Realtor's latest YouTube video, which discusses the new website: Reilly Realtors Releases New Austin Home Search Site.
Reilly Realtors, LLC was formed in 2006 by Michael and Shae Reilly, and focuses primarily on residential home sales in Austin and the surrounding areas. The brokerage is made up of 30 top producing agents with an average of 5 years experience and is on track to close $75,000,000 in residential sales for 2013. Reilly REALTORS operates the extremely popular website AustinHomeListings.com, which allows the public to search virtually all Austin homes for sale with an easy to use map-based interface using data from the Austin MLS. For more information about Reilly Realtors, call 512-600-1800 or visit us online.
Michael Reilly, Owner
Reilly Realtors
512-600-1800