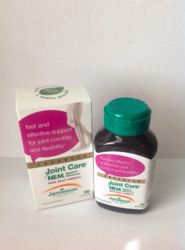 Carthage, MO (PRWEB) April 04, 2013
ESM Technologies announces a nationwide Walgreens rollout of Advanced Joint Care by Jamieson Laboratories which features NEM® branded eggshell membrane. "We are very proud to be a part of Jamieson's introduction into the US and to have NEM® associated with a company known for their commitment to quality," said Micah Osborne, President, ESM Technologies.
NEM® is quickly gaining market share, becoming more available to people and their pets through multiple sales channels. Jamieson's Advanced Joint Care is a once-daily capsule supplement available in all Walgreens store locations and though Walgreens online at. By choosing NEM®, Jamieson's Advanced Joint Care includes the only branded, patent protected eggshell membrane ingredient that combines a small, once-daily dose with published safety and efficacy studies.
Advanced Joint Care with NEM® is part of an important US launch for Jamieson to which Jillian Mariani, Director of Brand Marketing for Jamieson Laboratories says, "NEM has several unique advantages from a consumer perspective – it is a once daily capsule, it can work in as little as 7-10 days, and there is solid science behind it. Additionally, it is sustainably sourced – all in all a very consumer friendly way to support joint health. NEM works well with Jamieson's values – we aim to provide pure, safe, efficacious, products that are fully traceable from farm to finish, and sustainably."
Mariani comments, "Joint health is an obvious concern for millions of consumers and the FDM market for natural joint health supplements is significant. Yet glucosamine as a consumer "solution" to joint health seems to have become less and less satisfying for consumers. We feel the time is right for a new, natural way to support joint health – with better compliance and results you can feel sooner."
People can find Advanced Joint Care in Walgreens stores nationwide and learn more about Jamieson Laboratories online.
About NEM®
NEM® is the only eggshell membrane ingredient with multiple published clinical studies and is manufactured in Carthage, MO by ESM Technologies, LLC. Utilizing the membrane lining of eggshells, NEM® provides a single, natural source of glycosaminoglycans, hyaluronic acid (HA), collagens, proteins and other joint supporting nutrients. NEM® is a once-daily, 500mg dose that supports joint comfort and flexibility within 7-10 days. Published safety and efficacy studies are available to the public upon request.