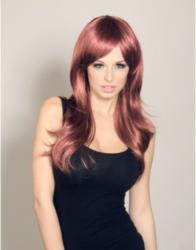 Sales of our of our red wig collection was up significantly in March, although I suspect this was down to Comic Relief fever as opposed to a new red hair trend.
London, UK (PRWEB UK) 5 April 2013
Wonderland Wigs saw a 37% increase in sales of red wigs in March, month on month. The leading wig, hair piece and hair extension retailer says that this could potentially be an indication that red hair is going to make a significant come back in 2013 - similar to the red hair trend of Summer 2011.
The increase in sales of red wigs could also be down to the fact that Comic Relief was hosted in March, with its predominant colour theme being red. Businesses and schools across the country wore red in support of Comic Relief on the 15th of March, this even included the Prime Minister's wife, Samantha Cameron donning a red wig. Further to this Wonderland Wigs pledged to donate £1 from every wig sold in March to Comic Relief, so this too potentially may of had an impact on sales as customers ceased the opportunity to go red, and also support the popular charity.
Wonderland Wigs co-owner, Robert McClements says "It was great to see such an increase in sales of red wigs month on month. Red is one of our most popular colours and we are proud to offer a vast range of styles and a variety of shades of red in our range. Potentially it could be the start of a new red hair trend, however I suspect it is more likely down to 'Comic Relief Fever' and people doing their bit and going red in March for charity."
____
Wonderland Wigs is a leading retailer of celebrity and fashion led wigs, hairpieces, extensions and hair accessories. Based in the UK, with the aim of giving every girl the 'great hair she deserves', Wonderland offer something for everyone and are favored by a host of celebrities across the world. http://www.WonderlandWigs.com