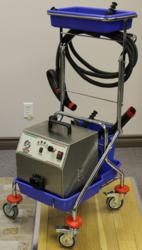 Spencer states "No matter where we go, people ask about the steam cleaner.
New Milford, NJ (PRWEB) April 09, 2013
Kleen Steam in New Milford, NJ has announced new distributor sales opportunities. With a line of unique, reliable, commercial, industrial, and residential steam cleaners, there is a steam machine for every cleaning job in every price range. Kevin Farrell, owner of Kleen Steam, states that the brand name Vapore, and surname, Vapor Chief has been so successful that they need assistance with all the inquiries and flood of people interested in the brand. "We are looking for qualified, serious people, who know how to sell a quality piece of equipment. The geographic location is not a concern, as long as there is enthusiasm and a willingness to talk "steam" to people who are interested".
Seeing is believing
A local distributor, Daryl Spencer, owner of Chariot Sprucers in Ramsey, NJ is a recent sales representative and a believer in the power of steam cleaning. A top mobile car detailer by trade, Spencer has been around steam cleaners for quite a while. However, having owned less superior models over the years, many steam cleaners did not get the job done on filthy vehicles. Being somewhat skeptical about another new brand, he decided to try Vapore. After owning one for over a year with zero problems and outstanding results, he decided to become a Vapore distributor. Because Chariot Sprucers is a mobile detail business, Spencer is on the road and in many different areas. His Vapor Chief is with him at all times and at the ready. Spencer states "No matter where we go, people ask about the steam cleaner. We do demonstrations and clean whatever is asked of us, with overwhelming results, and usually a sale on the spot". Farrell of Kleen Steam adds, "Daryl sells to everyone including fellow auto detailers, hotels, nursing homes, car dealers, hospitals, restaurants, hotels and more". Any Vapore distributor can have success as the brand will make believers of even the most skeptical person. As well, with a steamer financing program in place, it makes it easier to obtain the needed equipment
Start slow, choose any plan
Kleen Steam will allow a potential distributor the freedom to work at a comfortable pace without having the burden of inventory. They do not need to carry inventory if they do not desire. A distributor needs general knowledge of steam cleaners and the process of cleaning with steam. They need to be able to demonstrate and show a client how effective a steamer will be on any surface and any kind of dirt. Once a customer is interested, they pass the lead directly to Kleen Steam and receive a commission on a sale. Another distributor plan is to close the sale and accept payment with Kleen Steam then billing the distributor at a wholesale price and shipping to that distributor's customer. The most rewarding distributor plan is to stock inventory (when ready), pay an even lower wholesale price, and be able to present a brand new Vapore steam cleaner direct to their customer. The plans are easy, no risk, and selling a quality steam cleaner such as a Vapore and Vapor Chief, will mean many happy and satisfied customers
It doesn't need to be difficult
Many manufacturers of any product many times make it confusing, difficult and costly to be a distributor. Large amounts of inventory are required with a large upfront payment. The manufacturer generally isn't looking for a "partner", they are looking for a large upfront sale to help move their inventory. Kleen Steam is looking for people who believe in steam cleaning and want to educate people and help sell quality steam cleaners. With a larger portion of the population being more concerned than ever about "going green" and being "eco friendly", as well as the need and knowledge of having items not only being clean, but sanitized and disinfected, the trend is toward steam cleaning. Kleen steam has given people the opportunity to join the steam clean revolution
Kleen Steam and Kleen car have been selling and using vapor steam cleaners for over 10 years. The companies specialize in steam cleaning any surface. Their knowledge of steam cleaners in general and the expertise and customer service provided has resulted in selling to customers from major car manufacturers, large car dealerships, car washes, hospitals, hotels and maintenance and janitorial companies.