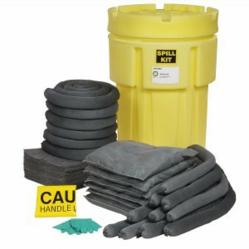 "Luckily we haven't had to use the spill kit but we have peace of mind knowing that if and when an accident happens, we will be prepared."
Lake Oswego, OR (PRWEB) April 08, 2013
Most people think of hospitals, clinics, and other health institutions as being the place where accidents don't happen. However, medical procedures don't always go as planned. Accidents do happen and one of the best tools to have on hand is a spill kit. Spillkitcentral.com is now offering Universal Spill Kits in a variety of sizes that can work well in most health facilities. Spill kits are not just for medical facilities, they are also a great precautionary tool in industrial settings and public places like schools, health clubs, and shopping malls.
Spill kits include a variety of sorbents to handle nearly any type of caustic, hazardous, or unknown spill. The solvents included in the spill kit are pre-packed in an X-rated DOT-approved OverPack. Self-contained kits stores sorbent products for easy access as needed for spill control that will save time when quick responses are necessary. Spill kits have a twist-on, double-wall lid with closed-cell gasket providing secure closure to protect sorbents from moisture, dirt, and damage. The spill kit exterior is rust and corrosion free 100% polyethylene making it durable to withstand rough handling.
Accidents will happen and facilities need to be prepared before an accident becomes a tragedy. Spill kits are the right emergency equipment to have on hand. Spill kits will not only save lives but will also protect the environment at the same time. By acting quickly to hazardous spills can prevent liquids from running down a drain and getting into public or irrigation water systems.
A school custodian commented, "Luckily we haven't had to use the spill kit but we have peace of mind knowing that if and when an accident happens, we will be prepared."
For more information about spill kits, please visit http://www.spillkitcentral.com or call toll-free (866)777-1360 to speak with a professional representative about universal kits or kits that can be customized to specific needs.