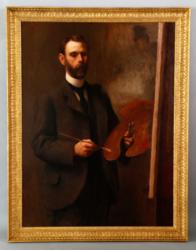 Beverly, MA (PRWEB) April 06, 2013
Kaminski Auctions' April Estate Sale on April 21, 2013 will offer a variety of fine and valuable items, including many lots of unique fine art and beautiful decorative objects.
Among the top lots of fine art in the sale are paintings by DeWitt McCellan Lockman, and a print by Salvador Dali. Lockman was the youngest artist to ever exhibit in the National Academy. Considered a prodigy at a young age, he was entirely self taught and enjoyed success throughout his lifetime. Best known for his portraiture, Lockman's paintings now hang in the Metropolitan Museum of Art, National Academy of Design, and Portland Museum of Art, among others. Kaminski Auctions is proud to offer this notable artist's self portrait in our upcoming sale. "Self Portrait" is estimated to fetch between $4,000 and $6,000.
Another highlight of the sale is Lot 6261, a Salvador Dali print entitled "L'art D'aimer D'Ovide." This colorful image of a brightly colored female figure followed by a more subdued male first appeared as the frontispiece of Salvador Dali's illustrated edition of Ovid's The Art of Love. The print offered at Kaminski Auctions is editioned 28/125 and signed in pencil. Appraisers at Kaminski have valued the piece at $3,000 to $6,000.
The Estate Auction will also include a watercolor from the Siberian/American artist Abraham Walkowitz (1878 - 1965). The watercolor captures Walkowitz's characteristically abstracted figures in fluid movement, and is a brilliant example of his interest in the movement of dance. This Walkowitz watercolor is estimated at $3,000 to $5,000.
The April Estate Auction will also feature a broad selection of decorative arts. Among the top decorative lots is a T&V French Limoges punch bowl. The bowl is hand painted on both the interior and exterior surfaces with colorful bunches of grapes and leaves. With the Limoges mark to the bottom and the signature of the painter "Solis" on the interior, the bowl is expected to sell for between $3,000 and $6,000.
Other exciting items in the sale include a Mexican silver tea set complete with coffee pot, tea pot, creamer, covered sugar, waste bowl, and tray. The set is signed "Sterling Heather Mexico," and weighs approximately 229.6 troy ounces, total weight. Pre-auction estimates put the value of the tea set at $4,000 to $6,000.
Further lots of interest include a rare Rare Cristalleries De Nancy Vase. The vase features cameo glass form in an inverted bell shape with royal purple and white floral decoration. The piece is marked "Edition D'Art Des Cristalleries De Nancy, ouvre De M Guerycolas, Triage A 100 Exemplaires No 25," and carries an estimate of $1,800 to $2,600.
In addition to these fine decorative objects, Kaminski's April Estate Auction will also include select lots of furniture. Preview for this diverse and exciting sale will be Wednesday April 17th through Saturday April 20th, from 10:00 a.m. to 5:00 p.m., with extended hours until 8:00 p.m. on Friday, April 19th. Preview will also be held on the day of sale, April 21st, beginning at 8:00 a.m.
KAMINSKI
Kaminski Auctions, located on the North Shore of Boston, has been serving the New England antiques market for over 25 years as a full service auction house and appraisal service for fine art, antiques and estates.
With two locations in Beverly, Massachusetts, including a new state of the art auction gallery located at 117 Elliott Street, and a historic 1850's barn and office facility at 564 Cabot Street, Kaminski Auctions hosts 25 auctions a year.
In today's highly competitive market of fine art and antiques, Kaminski Auctions provides its customers with bicoastal services and marketing with west coast offices in Beverly Hills and San Diego, California.
Kaminski Auctions offers specialty departments in Asian Art and Antiques, Silver, Glass and Lamps, Couture and Vintage Clothing, Photography and Modern Design . We have highly trained and knowledgeable appraisers on staff that will help you determine the true value of your antiques, or entire collections. Free Appraisal days are offered every Tuesday from 10:00 a.m.- 4:30 p.m. at our 564 Cabot Street location in Beverly, Massachusetts & our 5171 Santa Fe Street location in San Diego, California. We welcome emailed photos of your items.
Contact Harry Morgan - hmorgan(at)kaminskiauctions(dot)com