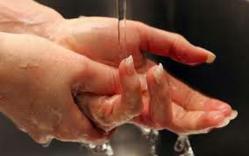 Bolton UK (PRWEB UK) 8 April 2013
The results of the Labour Force Survey released this month, published by Health and Safety Executive (HSE)* show that occupational dermatitis still accounts for a high proportion of work-related disease cases. These statistics are replicated within Asons Solicitors, with a substantial volume of Industrial Disease claims being Dermatitis related.
Asons Executive, Thomas Fairclough, commented on the rise we've seen:
"Over the last year dermatitis claims have accounted for a substantial proportion of our industrial disease cases. It seems despite being easily preventable, occupational dermatitis is still an ongoing issue."
According to the Labour Force survey* in 2011/12 an estimated 9000-22000 people who had worked in the previous twelve months suffered from "Skin Problems", that they thought were caused or made worse by work.
Incidences of work place "Skin Problems" are most likely to be 'Contact Dermatitis'; caused when the skin becomes inflamed upon coming into contact with a particular irritant or allergen. Contact Dermatitis causes the skin to become red, blistered, dry and cracked; in severe cases infections can develop**.
The Labour Force Survey has released figures compiling a 'Top Ten Causes of Occupational Dermatitis'* detailing the reasons for the prevalence of skin problems within the work force.
In order of most to least common, they were allocated as follows –
1) Wet Work
2) Soaps and Cleaners
3) Rubber Chemicals and Materials
4) Personal Protective Equipment (PPE)
5) Nickel
6) Fragrances and Cosmetics
7) Hairdressing Chemicals
8) Preservatives
9) Aromatic Amines (PPD)
10) Bleaches and Sterilisers
Thomas Fairclough was surprised by the apparent rankings:
"Personally, I considered bleach to be one of the main causes of dermatitis claims. I'm surprised that something as simple as not having dry hands could have such ramifications. Employers need to be aware of these statistics and make appropriate provisions for their work force"
Bearing these figures in mind, employers have a 'duty of care' to ensure that they provide a safe working environment for their staff; by making sure frequent health and safety assessments are carried out, to ensure that they comply with regulations. Where employers are found to have been negligent in safe-guarding their employees, where they have developed occupational dermatitis, affected individuals have grounds for an industrial disease claim.
If you, or someone you know, feel as though an employer has not provided the care, information and equipment required, resulting in the development of dermatitis, contact Asons Solicitors today.
Sources:

hse.gov.uk/statistics/causdis/dermatitis/skin.pdf
** nhs.uk/conditions/Eczema-(contact-dermatitis)/Pages/Introduction.aspx
About Asons Solicitors:
Asons Solicitors is a Bolton-based law practice that specialises in personal injury and industrial disease claims. Founded by brothers Imran Akram and Kamran Akram, Asons Solicitors has developed to become a young and dynamic law firm that delivers practical solutions to clients in times of difficulty. Their continued focus on their staff has seen them awarded with the Investors in People "Gold Award"; which is reflected in the professional and personable approach they take in working with clients. They strive to grow and to develop, and their supportiveness and attention to detail ensures that their clients use them time and again.
For further information contact:
Email: info(at)asons(dot)co(dot)uk
Website: http://www.asons.co.uk