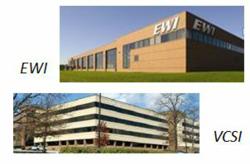 We look forward to pooling our expertise and capabilites in future collaborations.
Columbus, OH (PRWEB) April 08, 2013
Columbus-based EWI is pleased to announce a new strategic partnership with the Von Braun Center for Science & Innovation (VCSI) in Huntsville, Alabama.
The two not-for-profit organizations, which provide innovative engineering solutions to customers in business and government, are closely aligned in both mission and vision. EWI is the leading engineering and technology organization in North America dedicated to materials joining and allied technologies. Since 1984, the firm has been advancing manufacturing competitiveness in a variety of industries. VCSI, strategically located in the North Alabama technology corridor, is an emerging center of basic and applied research geared toward the aerospace and defense industries.
"EWI shares our goal of transitioning technological innovation into practical application," said Marty Kress, President/Executive Director of VCSI. "We are very excited to have the group join us as a strategic partner." Chris Conrardy, EWI's Chief Technology Officer, was equally enthusiastic about the new affiliation. "We look forward to pooling our expertise and capabilities in future collaborations with VCSI," he said.
About EWI
EWI is an international thought-leader on materials joining and allied technologies. It uses manufacturing technology innovation to increase the competitiveness of over 1,200 member locations of global leaders in the advanced energy, aerospace, automotive, government/defense, heavy manufacturing, oil and gas, and consumer products industries. EWI also operates a variety of technology-based centers and consortia to further increase U.S. manufacturing innovation. To learn more, visit http://www.ewi.org, email info(at)ewi(dot)org, follow @EWI_innovation, or call 614.688.5000.
About VCSI
The Von Braun Center for Science & Innovation integrates the R & T resources and capabilities of the North Alabama technology corridor with national assets to provide science and technology innovations and solutions to meet critical mission requirements in support of civil, commercial, and national defense needs. VCSI also serves as a hands-on learning laboratory for training, educating, and preparing a strong workforce for tomorrow.