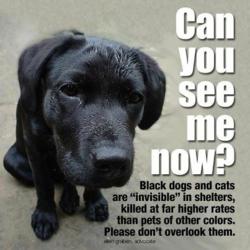 Life is Ruff ... When you're a black dog.
Manchester, VT (PRWEB) April 05, 2013
Never heard of BDS or Black Dog Syndrome? Neither had the "Life is Crap" T-shirt company until one of their fans, Donna Peters, on behalf of Camp Bark Kennels, approached them for an auction donation for the "Black Dog Walk". The walk will take place this Sunday, April 7 from 9am to Noon at the Shops at Piper Glen, in Charlotte NC. A Free Family event, designed to shed some light on "BDS" or "Black Dog Syndrome". There will be dogs available for rescue and several dog friendly shops will have special deals for black dogs.
According to Ms. Peters, statistical data is difficult to find on the subject of "Black Dog Syndrome". However, ask any shelter or rescue worker they will tell you a fluffy white dog will get adopted faster than a mixed black dog any day of the week.
So why are the black dogs singled out? Perhaps it is historical? Black cats have always been associated with bad luck. Maybe by default black dogs fall into that same category! In British Folklore, the black dog is a spectral creature that haunts graveyards and is an omen of impending death. Black dogs typically don't photograph as well and are more difficult to see in dark shelter cages.  Some speculate that black dogs just don't have the right look to catch the eye of potential adopters. Whatever the reason, the longer they sit in the shelter, the greater the chance they will be euthanized.
So, how does "Life is Crap", a humor based T-shirt and apparel manufacturer, play into this mix? It is quite simple actually. "Life is Ruff", one of the successful sub-brands of "Life is Crap", was designed with man's best friend in mind, seeing life through a dogs eyes. When Donna Peters and "Camp Bark Kennels" out of Charlotte, NC, approached "Life is Crap" for support of their "Black Dog Walk", it only made sense to donate some "Life is Ruff" apparel to the auction.
Remember, when in Charlotte this Sunday, April 7th, be sure to visit the Shops at Piper Glen, 6416 Rea Rd, Charlotte NC 28211, from 9am to Noon to show support for this great cause. This is a Free Family event with many dogs available for rescue and special deals for black dogs from dog friendly shops on site.
To participate in the walk, head on over to the Four Mile Creek Greenway before 10 AM.
This will be a fun family event for all who attend.  For additional information about the event this Sunday, April 7 please contact Petco located in the Shops at Piper Glen Center at 704-542-7077.
Several non-profit rescue organizations will be on hand to help with pet adoptions, as well as to answer questions about BDS.
Carolina Hearts Aussie Rescue
Carolina P.A.W.S
CMPD Animal Care & Control
Fabulous McGrady & Friends Foundation
Family Addition Dog Rescue
Greater Charlotte SPCA
To learn more about "Life is Crap" and their funny family of brands like "Life is Ruff", check-out their site at http://www.lifeiscrap.com.