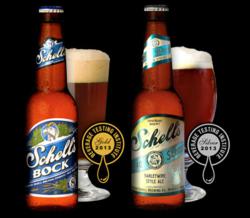 New Ulm, MN (PRWEB) April 04, 2013
The August Schell Brewing Co., the second-oldest family-owned brewery in the country, brewer of Schell's and Grain Belt, has been awarded a gold and silver World Beer Championship medal from the Beverage Testing Institute (BTI) for its Bock and Stag Series #7 American Barleywine Ale.
The Beverage Tasting Institute (BTI) was founded in 1981. The judging ratings range from 96 to 100 for superlative to 80 and below for not recommended. Jerald O'Kennard, Director of the Beverage Testing Institute, said that 94 is an extremely good score, and unusually high. Testing methods minimize external factors and maximize the concentration of the panelist. All of the panelists are professional guest tasters who are retailers, restaurateurs, or prominent writers.
Schell's Bock scored a 93 in the Bock category, earning the title "exceptional." Each year the promise of spring is confirmed as the first keg of Schell's Bock rolls onto waiting delivery trucks. And since 1860, Schell's Bock has continued in the true German tradition. Brewed with a harmonious blend of 10 different types of malt and noble hops, Schell's Bock is fermented slowly, and then lagered for an extended period of time to ensure a smooth finish.
Rating: 93 points (Exceptional)
Alcohol By Volume: 6.1%
Category: Bock, Lager
BTI Tasting Location: Chicago Tasting Room
BTI Tasting Date: Mar-06-2013
Schell's Stag Series #7 American Barleywine Style Ale earned an 88 in the Barleywine Ale category, receiving a "highly recommended" from the panel of judges. Each 100 bbl brew of Stag #7 (about 200 bbls total) required two separate mashes of over 6,000 pounds of malt. 150 pounds of hops were added to the wort during the extended (90 minute) boil. The wort was then cooled and fermented with American Ale yeast. Finally, the beer was aged for over three months. The end result is an intensely malty and assertively hopped American Barleywine. This beer has an amped up malt flavor, high alcohol (9.5% ABV) and heaping amounts of citrusy American hops.
Rating: 88 points (Highly Recommended)
Alcohol By Volume: 9.5%
Category: Barley Wine, Ale
BTI Tasting Location: Chicago Tasting Room
BTI Tasting Date: Mar-06-2013
About August Schell Brewing Company:
August Schell Brewing Company, located in New Ulm, MN, sits atop the same site it was built on in 1860. With its sprawling grounds, beautiful gardens, Schell Mansion, and deer park, the brewery is a tourist destination for any beer lover. Schell's boasts a proud heritage of 153 years of continuous family ownership and specializes in craft beers. In addition to the line of specialty beers, Schell's also produces Grain Belt Premium, Grain Belt Premium Light and Grain Belt Nordeast. For more information on Schell's Brewery, tour schedules or any of their 17 quality beers, go to http://www.schellsbrewery.com.