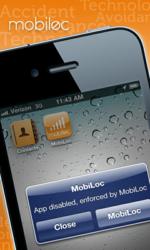 Just imagine, an iPhone app preventing distracted driving but not drain your battery. We call it MobiLoc.
Dallas, Tx (PRWEB) April 05, 2013
MobileLutions announced today a new release of the iPhone MobiLoc software, running on iOS6 and above, incorporating a new proprietary algorithm that automatically stops the battery drain caused by the iPhone's GPS location service. With this new release, a MobileLutions customer can be confident their employees will not have to be constantly charging the iPhone during the normal workday. In fact, in most cases the battery drain due to the MobiLoc distracted driving software is not even noticeable.
While many companies believe a solution needs to be implemented to protect their company and the public from the dangers and the liability of distracted driving, if the iPhone is hampered by having to be constantly charged, it prevents the workforce from adopting the technology.
Larry Eppard, MobileLutions founder, says, "The battery usage was solved in 2011 for Android and Blackberry but the iPhone had unique challenges. With today's release of 6.1.3 those challenges have been met. There is absolutely no reason a company should not be using this solution on their iPhone."
The MobiLoc solution is easy to implement on any number of smartphones used by your workforce. There are no downloads or discs, and nothing to plug in. This over-the-air technology is pushed straight to each smartphone, immediately keeping your employees and others safe from distracted driving. The protection travels with the phone, not the vehicle.
You can see the technology in person on April 19, 2013. The FCC is hosting a distracted driving focus day, http://www.fcc.gov/events/fcc-showcase-technology-prevents-distracted-driving to showcase what technology can do. MobileLutions has been invited and will be attending.
Also released in the 6.1.3 upgrade are new features in the MobiLoc portal:

Instant notification of attempts to not use the software to administrators
Server based notification to the phone when there are attempts to not use the software
Server based tracking of phone configuration
Receive reporting via email
The upgraded software is immediately available to all MobileLutions' customers.
For more information on MobileLutions corporate solution, please visit http://mobilelutions.com.
MobileLutions is a leader in providing software solutions for the iPhone, Android and Blackberry platforms to prevent distracted driving accidents and reducing corporate exposure to this risk. The MobiLoc solution is built to enforce and monitor company level policies across the organization for a standard enforcement of the policies.
#