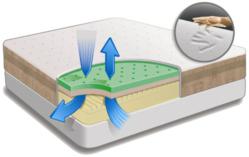 "Our patented Airflow Transfer System is a real solution to helping prevent heat build-up in a mattress, so we will spare no cost to protect our rights," says Dr. Swartzburg.
Westlake Village, CA (PRWEB) April 05, 2013
As Wall Street keeps an eye on the raging battle between mattress giants Tempur-Pedic, and Serta's iComfort series for consumer domination of the memory foam mattress market place, mattress manufacturer Relief-Mart, Inc., continues to take on multiple opponents to retain their share of what they believe to be a much more important battle...the rights to U.S. Patent No. 7,334,280 (described as their Airflow Transfer System). While at first glance, their patent may seem like something that is already utilized by other competitors, Relief-Mart, Inc. has made millions of dollars each year by being able to educate the consumer on why it is nothing of the sort.
According to Dr. Rick Swartzburg, D.C., V.P. of Product Development for Relief-Mart, Inc., the maker of the Tempflow (http://www.Tempflow.com) and Selectabed (http://www.Selectabed.com) mattress lines, the patented airflow system is all about complete airflow circulation to address the largest concern that memory foam mattress shoppers have...getting hot from sleeping on one. "There are plenty of mattresses that employ air holes on the surface of their mattresses and many that use convoluted (carved out peaks and valleys) foam underneath for airflow, but only our patented system combines both, for a complete airflow circulation system that exchanges the cooler surrounding air with the warmer radiating body heat." Dr. Swartzburg, also the inventor and patent holder of this airflow ventilation system, goes on to state this airflow system is even much more than meets the eye. "Earlier prototypes were just not nearly as effective as we had hoped," cites Dr. Swartzburg. "It took years to refine the patented Airflow Transfer System we employ on all the Tempflow mattresses, giving the user the best combination of comfort, support and complete airflow circulation that actually allows the air to travel in and out of the mattress in both directions, thereby, making the mattress completely breathable for the user."
The Airflow Transfer System's heat reducing ventilation system has even been tested by non-affiliated entities, such as Space Daily (SPX), an industry leading online space publication located in Australia, as well as the Editor and Chief of the Los Angeles based Splash Magazine. Space Daily's testing method was to put a Tempur-Pedic and Tempflow mattress side by side for a direct comparison of the Tempflow and Tempurpedic mattress. In that comparison, the Space Daily staff member who performed the testing felt that both mattresses had a similar feel, but also believed that the Tempflow™ mattress kept his body cooler overall. Additionally, he noted that his staff also felt that the Tempflow provided a cooler sleep as well. For his part, Lawrence Davis, Editor and Chief of Splash Magazine ordered one for his home after doing what he cites as 35 hours worth of Tempflow and Tempurpedic Reviews and came to the conclusion from his research, as well as personal use, that the Airflow Transfer System did indeed work to prevent heat build-up.
When asked why the Tempflow mattresses do not employ a gel infused memory foam to prevent heat build-up, such as they type used in the Serta iComfort brand, Dr. Swartzburg cites the point that gel is a conductive material that will initially feel cooler when exposed to a cooler air environment, but actually warm up more than other bedding materials when placed against your body heat.
Unfortunately, with innovation comes imitation. Relief-Mart, Inc. has already had enforce the patent rights against other competitors, despite the costs involved in preparing for litigation. According to Dr. Swartzburg, U.S. mattress companies Glideaway, Merchsource, Applause Source, and Diamond mattress all agreed to not sell designs that utilized the "280" patented airflow ventilation system. "We realize that there may be situations where other manufacturers do not even realize that they are infringing on our patented system and we hope that in those cases, we can reach an expedient and amicable resolution." However, Relief-Mart, Inc. has shown their willingness to protect the patent at any cost, if need be. "We certainly don't want to pick a fight with competitors, but our patented Airflow Transfer System is a real solution to helping prevent heat build-up in a mattress, so we will spare no cost to protect our rights," says Dr. Swartzburg.
With so many competitors attempting to carve out their share of a multi-billion dollar industry, the stakes are high, but Relief-Mart sees this as more of an opportunity than a burden and feels more than up to the task.
About Tempflow™ and Selectabed
Tempflow is a product of Relief-Mart, Inc., a Thousand Oaks, CA based mattress and healthcare manufacturing firm founded in 2001 to provide real solutions for comfort, support and overall body health. Company products can be found at the Tempflow.com website and at select dealer locations. For more information, you can also call (800) 667-1969.
*Tempflow is a trademark of Relief-Mart, Inc. Tempur-Pedic is a registered trademark of Dan-Foam A/S Corporation. Serta® and iComfort® are registered trademarks of Serta International and is used only to illustrate differences between products. The information in this release with regard to Tempflow, Selectabed, Serta iComfort and Tempur-Pedic mattress brands is strictly for comparison purposes.