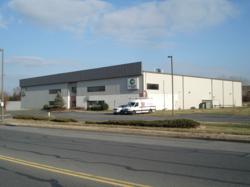 Frederick, MD (PRWEB) April 06, 2013
Kline Scott Visco Commercial Real Estate, Inc. (KSV) is pleased to announce the availability of a 40,000 square foot office/manufacturing facility on 4.67 acres one half mile from I-70 and adjacent to the Frederick Municipal Airport.
Formerly occupied by a major printing firm, this facility has some unique features not necessarily common to many properties of the same size. Chris Kline, Broker for KSV, states, "Aside from the fact the ceiling height is 24 feet at center, the building is fully air conditioned, with a primary electrical service of 1,000 amps, 480/277 three phase plus conduits stubbed to the building to duplicate this power". Kline adds, "If a purchaser requires future expansion of the building, there is room for an addition + 22,000 square feet of manufacturing warehouse space". The facility is fully sprinklered and served by public water and sewer.
For more details about this property please contact Chris Kline (cell 301-401-1232) or Maribeth Visco (cell 301-401-2899) or visit our website at http://www.KlineScottVisco.com