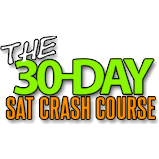 An amazing system is always better than a diligent tutor, and my goal is to create a system better than I could ever be.
New York, New York (PRWEB) April 05, 2013
With college tensions heating up around the country, more and more competitors are entering the SAT prep space. Some promise experienced tutors, others promise advanced technology, and all try to indicate that they'll provide the results parents are truly looking for. However, of all the options on the market, one program in particular might prove that the simplest options sometimes prove to be the most effective. Anthony-James Green's new 30-Day SAT Crash Course has just seen its first "graduating class" of students, and the results are outstanding.
The 30-Day SAT Crash Course, a self-study program based on world-renowned SAT tutor Anthony-James Green's own last-minute SAT program, provides students with an in-home program which they can use on their own time to study for the SAT. When students receive their scores, they have the option of contacting Green and his support staff to let him know their results. Thus far, these results have been vastly above the industry average: students have improved by over 260 points on average, a figure made even more remarkable by the limited time they had to study.
"This program is aggressively simple," says Green, the creator and designer of The 30-Day SAT Crash Course. "It doesn't use any bells or whistles, and we invested about ten dollars in the program's graphic design. I'm a Six Sigma Black Belt (an intense efficiency-management philosophy used mostly in Fortune 500 corporations), and I believe that a powerful system, continually perfected and rigorously applied, is more powerful than any other force in bringing about wanted change. This program simply delivers my own last-minute SAT system to students in a clear, straightforward way, and the results are speaking for themselves."
As of late, Green has been a pioneer in the effort to provide low-cost, convenient SAT prep to students all over the country. After recently partnering up with YES Scholars, and working on partnerships with multiple other non-profit organizations, Green feels that he may have finally "cracked" the test which has for so long proven a terror for high school students all over the country. Both of his programs are entirely self-study oriented, accessible from any internet-connected device, and cost hundreds or thousands of dollars less than the competition.
His full self-study program, The 60-Day SAT Prescription, costs less than $400, and can be viewed via the following URL:
His last-minute self-study program, The 30-Day SAT Crash Course, costs less than $300, and can be viewed via the following URL:
Both programs come with free textbooks and all the materials and instruction necessary to complete them. Furthermore, both programs come with guarantees not offered anywhere else in the SAT or test prep industry.
"Parents aren't buying SAT programs because they want to - they're buying SAT programs because they have to," says Green of the industry. "As far as I'm concerned, there are only two things they actually care about. The first is results. That's why my programs come with a 200+ point guaranteed score increase for the 30-day program and a 300+ point guaranteed score increase for the 60-day program. I'm creating programs that work, and I'm willing to put my money where my mouth is."
"The second thing all parents want is convenience. No parent wants to nag their child or manage the SAT process. These programs were therefore built for self-sufficient students who can handle their own process. Parents can check in, but they don't need to, and they certainly don't need to drag their children to classroom courses or arrange scheduling with a tutoring firm."
To many, Green's decision to release a low-cost product that emulates his own results is quite a surprise. After working with hundreds of students 1-on-1 and improving their scores by over 400 points on average, Green has earned a reputation as one of the best SAT tutors alive. As a result, he's booked 18 months in advance, and charges $500/hour for his services. But to Green, the decision is an obvious one.
"I get such big results because I've learned what works. I'm damn good at what I do, which is why parents pay me top dollar for my services. But for parents who can't afford $30,000 for their SAT prep, I wanted an option that provided similar results without the waiting list or the price tag. This test is an absolute joke, which is why I'm so passionate about teaching it. It's meaningless on a reality level, but it means a whole lot to colleges, so my mission is to help students to bypass this thing and get them where they're trying to go.
Now that Green has his first round of feedback, Green hopes to improve the program even further, making additions and subtractions to enhance the self-study format.
Green has also launched free resource centers to help students and parents deal with the college and test prep process. Parents can visit his free parental resource center via the following URL:
http://www.testprepforparents.com
Students who want free advice on test prep, academics, and college selection can check out his students-only SAT resource center here:
http://www.teachyourselftheSAT.com
"There's a lot that people need to know to beat this process, and I'm doing as much as I can to help them learn it," says Green.
Green, the founder of Teach Yourself the SAT, lives between Los Angeles and New York City, where he creates SAT programs and curriculum when not working with his 1-on-1 students.
###